Our world is changing fast. An increasingly connected globe means that users expect everything to be available on-demand, anywhere, anytime, regardless of where it originates. These kinds of expectations are driving every industry to rapidly transform to keep up. Digital business, powered by interconnection, offers a path to survival for businesses by enabling new ways of commerce, collaboration and innovation.
At the same time, our planet is facing major challenges such as climate change, natural disasters and other environmental risks. Earth Day, celebrated annually on April 22, offers a globally neutral platform for all types of organizations to come together to demonstrate support for environmental protection. We have seen how organizations and people coming together, connecting with purpose, can accomplish so much more than one, and it's a principle that we uphold in our corporate sustainability program.
Here are a few ways that Equinix is applying the power of many to advance our global environmental responsibility commitments:
Moving the needle toward a cleaner energy future
Leadership in the business world can often mean you are forging a new path to lead by example. Our commitment to environmental stewardship extends beyond Equinix. It includes all of our stakeholders – customers, partners, investors, employees – as well as others in our industry. We were the first company in our industry to publicly commit to a long-term goal of 100% clean and renewable power, and we've made significant progress toward our goal (see Figure 1). In 2018, Equinix purchased 1 MWh of renewable energy for every 1 MWh consumed in all of our U.S. data centers; effectively covering 100% of our U.S. load with renewable energy for the first time and over 90% of our worldwide total.
Figure 1: (Source, Equinix 2017 Corporate Sustainability report and 2018 update)
But we are also helping others learn more about how to purchase renewable energy. Equinix is an early member of the Renewable Energy Buyer's Alliance (REBA), an alliance of large clean energy buyers, developers and service providers working to move markets toward a renewable energy future. REBA sponsors periodic bootcamps for new buyers to learn about strategies for purchasing renewable energy. Bruce Frandsen, Senior Manager of Global Utilities and Sustainability at Equinix, has been invited to be a faculty member for several REBA bootcamps. In a recent interview, he said, "We take ownership of the fact that we are an energy-intensive business and therefore we should be leaders in this space. Leadership means helping others in the community come along to be part of it."
Miranda Ballentine, REBA CEO, in her statement below agrees with this sentiment:
"With REBA, we are bringing the buying power of large energy consumers together to change markets. Equinix was one of our earliest members and the first in their industry to publicly commit to a 100% renewable energy goal. Equinix has gone beyond their own footprint to serve as true leaders in the clean energy buyer community, and their expertise is helping us move the needle to a cleaner, more affordable, zero-carbon energy future."
This power of many is having an effect. The REBA community has grown to over 200 large energy buyers, and over 150 clean energy developers and service providers, a community that has been part of 95% of all large-scale U.S. corporate renewable energy deals to date. Equinix has also received recent recognition from other organizations for our leadership in the clean energy space such as:i
2019 Smart Energy Decisions Innovation Award for Data Center Energy Storage & Microgrids (photo below).
The EPA Green Power Leadership award for two years in a row (2017, 2018).
2018 Most Sustainable Companies in the World SEAL (Sustainability, Environmental Achievement & Leadership) Award.
Bruce Frandsen and Michelle Kerbow accept the Smart Energy Decisions Award for Equinix on March 13, 2019.
Igniting impact across the globe
The power of many doesn't just apply to our headquarter team in the U.S. Many of our teams across the globe are working to advance our sustainability mission. In a previous post, we talked about how our teams in several locations are helping Equinix advance responsible water consumption with innovations such as deep lake water cooling, green rooftops, water recycling and more. Some of our teams are also actively pursuing waste segregation and recycling within their local communities. Here are a few examples:
In London, Equinix is the lead participant in a community recycling program for Devonshire Square. Individual desk bins were replaced with shared recycling stations and employees are now segregating their waste. On a month to month comparison, waste for incineration was reduced by 5% and dry mixed recycling has risen from 4% to 7%.
In Spain, disposable cups were removed from coffee machines and desk bins were replaced with office-wide recycling stations.
Igniting impact at the grassroots with our employees
We also believe in the power of many when it comes to our employees helping to address global challenges such as pollution and social inequity. Through Equinix Impact, our employees worldwide are connected with the charitable initiatives they're most passionate about. Our first two grant recipients, Camara and Samasource, were selected through an employee vote.ii Since then, we've awarded additional grants to other nonprofits such as NetHope, The Mission Continues, Paradox Sports, the Ocean Conservancy (Clean Swell app) and Wine to Water.ii Our Equinix Women's Leadership Network (EWLN), which is run almost exclusively by employee volunteers, also helped to select two grant recipients that focus on women – World Pulse and Shadhika.ii
Employees also play an active role in our commitment to the power of many through volunteering. Last year alone, Equinix employees contributed 16,735 hours of volunteer time to worthy causes in the communities where we work and live. And since 2015, employees have contributed time and money to more than 50 environmental causes around the world. Here are a few examples:
For Equinix Impact Month, the employee-led Rio Running Club planted trees along a jogging path that encircles the Lagao Rodrigo de Freitas lagoon. They chose to plant Pau Brasil Trees, a threatened species according to the Brazilian Institute of the Environment and Renewable Natural Resources (IBAMA). Also known as Brazilwood, it is the national tree of Brazil and is reputed to produce the finest sounds possible for violins.iii
Last year, employees in Spain organized a clean up of the El Burguillo Reservoir located along the Alberche river. This year, they are partnering with the local Red Cross on their environmental awareness campaign to educate the community about protecting the environment and to clean up the La Corneja Forest Park.
Employees in Redwood City and Tokyo are planning to clean up the areas around their offices for this year's event. They will track the amount of trash collected using the Clean Swell app by the Ocean Conservancy.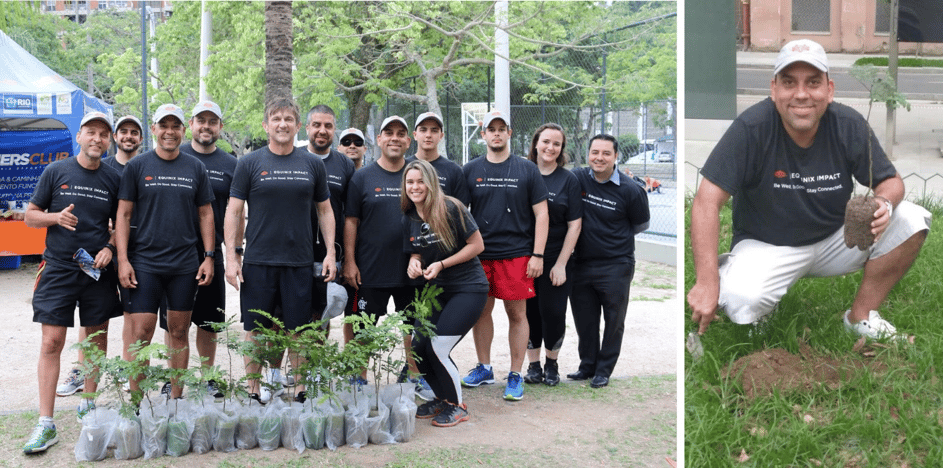 The Rio Running club planting trees – in the photo on the right, Equinix employee Paulo Faria planting a tree
Clean up of the Burguillo Reservoir by employees in Spain
Learn more about how we advance sustainability through the power of many on our Green by Design page and download our annual Corporate Sustainability Report.
You may also be interested in reading our previous Earth Day and sustainability posts.
[i] Equinix, Green Collaboration and Recognition: Green Awards; 2019 Smart Energy Decisions Award for Innovation; 2018 EPA Green Power Leadership Award; SEAL, Most Sustainable Companies in The World Honored At 2018 SEAL Sustainability Awards.
[ii] Blogs and articles about Equinix Impact Grant recipients – Camara, Samasource, NetHope, Paradox Sports, the Ocean Conservancy (in our Earth Day 2018 post), Wine to Water, and World Pulse.
[iii] Global Trees Campaign, Pau Brasil; Pangaea Project, The Tree that named a Country.