Have you ever known a geek? They can be eccentric and have excessive enthusiasm for a specialized subject (quantum physics anyone?). Definitely not mainstream – until now. In his book "Unnatural Selection: Why The Geeks Will Inherit The Earth", Mark Roeder argues that our increasingly high-tech world is fostering the rise of the geek class.i Since it's apparently cool to be a geek now, our "How to Speak Like a Data Center Geek" series will help you get a leg up, at least as far as data center geekiness is concerned. For this installment, we are going to dive into what we mean by infrastructure services. While it's fine to jump right in, for those geeks who prefer to be a bit more prepared, you may want to check out our first post in this series on data center physical infrastructure definitions.
What is Infrastructure Services?
Infrastructure Services address custom infrastructure design, procurement and installation of equipment, implementation and data center migration needs. It is not to be confused with Smart Hands which is intended to provide ongoing operational support for infrastructure, including small changes as needed.
Common use cases for Infrastructure Services
The most common use cases for Infrastructure Services are installations, implementations and migrations.
Installations include new cage builds, large cabinet installations or any other large or custom installation related to infrastructure.
Implementations include rack and stack of equipment in cabinets and installations of structured cabling.
Migrations are moving equipment from one location to another in the same data center or campus, or to another data center off-campus. A key focus is ensuring minimal downtime during the move.
Infrastructure design – starting with a good foundation
Similar to building a house on a good foundation to ensure it lasts a long time, an organization's digital future depends on the infrastructure in its data center build. Without a strong foundation, it's hard to be successful. Poorly designed or inefficiently installed infrastructure in data centers can cause power outages, raise energy costs and reduce the lifetime of costly equipment. According to research by the Ponemon Institute, the cost of an average data center outage is more than $750,000.ii
Designing a secure IT infrastructure that is agile and scalable enough to meet current and future needs requires extensive knowledge and experience to do it right. Typical responsibilities include:
Designing the optimum layout based on best practices and potential future needs.
Selecting and managing multiple vendors, sometimes across different regions, as well as negotiating pricing and timing.
Managing a detailed project schedule.
Keeping costs low and staying within budget.
Balancing short-term costs with long-term vision.
Equipment procurement
Once the build plan is in place and vendors are selected, managing the procurement of the equipment can be complex. Even a simple, small build, like a five-cabinet cage installation, can require coordinating with seven or more vendors. It involves purchasing the equipment and timing the delivery dates of multiple vendors, as well as scheduling shipments and access by vendors in alignment with the plan. It's also critical to install equipment in a way that optimizes performance and ensures warranty requirements are met.
Cage build
A cage build is one aspect of the data center infrastructure layout. Cabinets within the cage house the servers and other equipment. Power comes into cabinets through Power Distribution Units or PDUs. Fiber or copper Cross Connects from a company's equipment run through overhead ladder racks and trays to connect to their customers, partners or vendors in the same IBX, campus or anywhere in the world.
Designs should include hot and cold aisle containment to keep cold air where it's needed, which reduces the risk of downtime and ensures a longer equipment lifespan.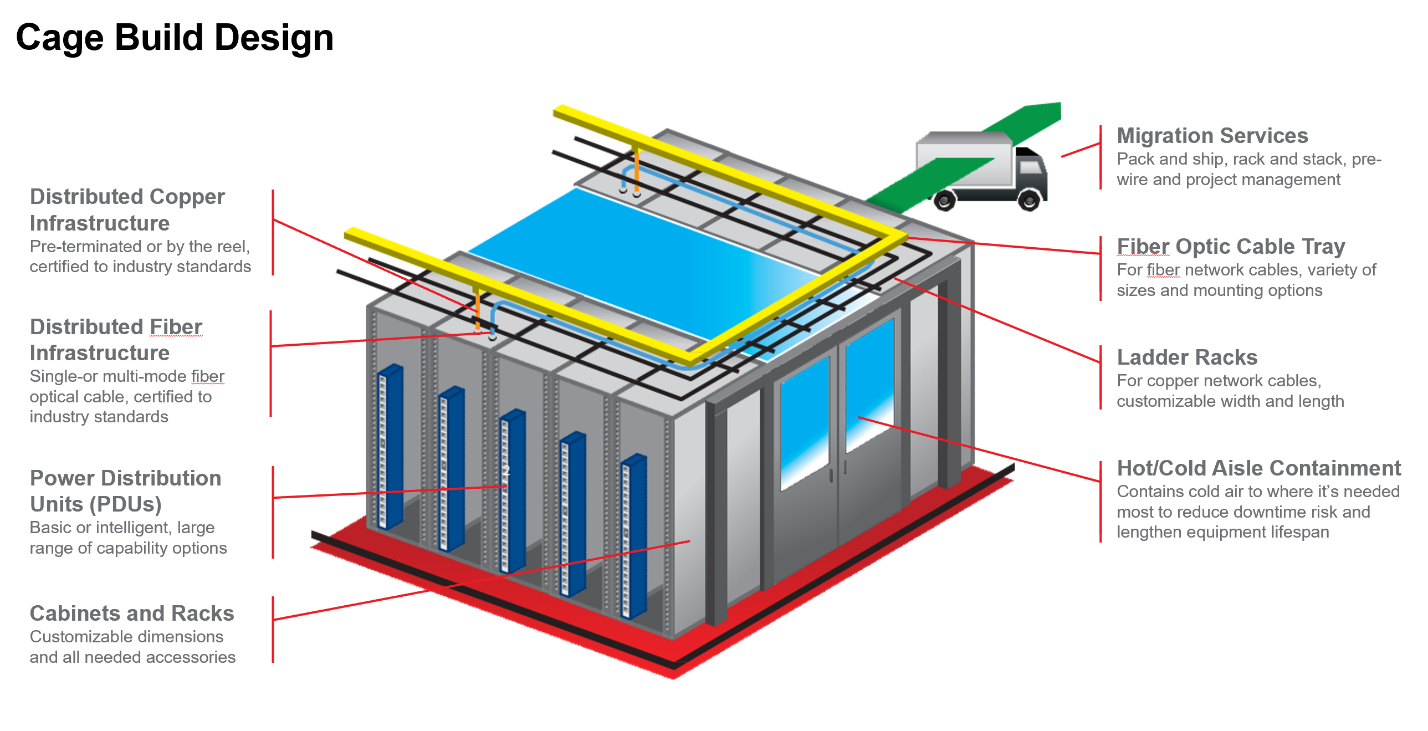 The photos below show a typical cage designed and installed by Equinix Infrastructure Services (EIS). An EIS private cage build includes security features such as cage mesh with one or more doors, at least one camera and a biometric reader or other secure locking mechanism to ensure only authorized personnel can enter.
Structured cabling – not spaghetti
The way equipment is deployed is also critical, and cabling between the infrastructure and the equipment is a good indicator of the quality of the build. Structured cabling is essential to minimize costly downtime. Disorganized cabling creates inefficiencies and opportunities for error such as poor airflow that traps more heat, increased cooling costs, higher hardware failure rates and difficult troubleshooting which increases downtime.
The photos below show structured cabling by EIS. The cables are neat and carefully labeled. This means that technicians can quickly troubleshoot and address problems, and it's easier to make sure that the correct cable is disconnected during a migration or move.
DIY or not?
Installing or moving IT infrastructure in a data center is a major endeavor—one that requires the ability to handle many moving parts and complex interdependencies. Sometimes businesses decide on a full or partial do-it-yourself (DIY) approach. That means choosing the vendors and handling the equipment purchase. Sometimes their own staff will do the install, or they may outsource portions of the implementation, such as the cage build or power installation. Due to the complexity of managing multiple vendors, delayed schedules and/or cost overruns can frequently occur. Many IT professionals install or migrate to a new data center only once or twice in their careers, so they may not have the in-depth experience or the knowledge to be successful.
EIS certified technicians and engineers have installed over 100,000 cabinets and almost 300,000 power circuits. Many EIS team experts have 20+ years of data center experience. And, with EIS, a business has a one-stop access to these experts, as well as any vendors needed, for data center installation and migration needs.
Learn more about Equinix Infrastructure Services.
And since geeks are set to inherit the earth, you may want to level up your geek by checking out every post in the "Data Center Geek" series!
[i] TechTarget, WhatIs.com: Geek; Wikipedia: Unnatural Selection: Why the Geeks Will Inherit the Earth, last edited Sept, 2018.  
[ii] Priceonomics, Quantifying the Staggering Cost of IT Outages, June 2019.