With increasing momentum, digital functionality is replacing purpose-built hardware or materials. Digital has replaced print and film. Streaming has replaced CDs and DVDs. Door keys are being replaced by codes. Specialized network hardware is being replaced by virtualized network functions (VNFs), giving network architects new options in deploying and managing network infrastructure.
As enterprises move IT infrastructure, data and applications from the data center to the cloud, expectations regarding the deployment and management of IT resources have dramatically changed. Enterprises are now expecting the same cloud-speed, on-demand deployment model from the entire digital supply-chain—applications, data, security, network infrastructure and services.
Network Edge Connectivity Strategy
As a result, enterprises understand that resource placement across widely-distributed networks significantly affects application performance. Increasingly, applications are running at the network edge, proximate to customers, business partners, and employees with the goal of optimizing performance.
Delivering capabilities at the digital edge presents new challenges of designing and implementing architectures to efficiently connect data center resources with widely distributed (often globally) network infrastructure. Architects need to develop and implement a secure, performant, and responsive network edge connectivity strategy that supports the dynamic workloads of today's hybrid and multicloud environments.
Network Vendors Partner With Equinix to Make VNF Deployment Easy
Equinix, is responding to the need to deploy and manage network services to help enterprises establish the required network edge connectivity.
Leading network vendors like Cisco, Palo Alto, Juniper, Fortinet, CloudGenix and Versa, working collaboratively with Equinix, have developed virtual network services that provide the functionality of their widely-used network hardware devices, but can easily be deployed where and when needed to provide the required network edge connectivity. Routers, firewalls and SD-WAN capabilities are available via Network Edge and deployed on Platform Equinix.
In comparison to the time required to procure, install and configure network hardware devices, virtual network functions can be deployed, configured, and connected to the digital edge in minutes via Platform Equinix.
A network engineer, architect or administrator simply
Chooses the metro area where the network function is to be deployed.
Selects and purchases the desired network function.
Deploys the network function with a few quick configuration steps.
Connects the network function using Equinix Cloud Exchange Fabric (ECX)™ to the required cloud provider.
Equinix and its network partners have invested time and technical expertise behind the scenes to ensure that network services available via Network Edge are easily deployed and support network edge connectivity with the public internet, cloud and network providers and participants in the digital supply chain.
VNFs Complement and Extend Network Connectivity
Virtual network functions give enterprises an option in how they choose to deploy network services. An enterprise could choose to expand its network coverage by deploying new network hardware or opt for the virtual network function approach to deliver the same capabilities. Virtual network functions available via Network Edge can offer significant advantages over the deployment of purpose-built network hardware.
Zero-touch provisioning eliminates delays associated with hardware procurement and deployment.
Easily scale or augment existing physical IT resources
Trade CapEx for OpEx to realize ongoing cost savings
Extend services to smaller markets without the need for significant CapEx.
Easily provide network services at the edge, closer to end-users for lower latency and improved network and application performance.
Vendor-neutral selection provides multiple options for network services and avoids vendor lock-in.
Bring-your-own-license or pay-as-you-go subscriptions (daily, monthly, yearly) models.
With virtual network functions available via Network Edge, an enterprise can complement existing network hardware while providing greater flexibility in deploying and managing additional network functions. An enterprise can dynamically connect to and disconnect from cloud providers to quickly meet evolving business requirements. Network Edge is available in North America, EMEA, and Asia Pacific, with planned expansion to additional major metros.
Working with clients, we've identified four of the most beneficial network edge connectivity use cases.
Cloud to cloud routing – Applications span multiple clouds, often with a database residing in one cloud environment and applications running on different cloud environments. Deploying a virtual router at the edge eliminates the backhaul of data to the corporate data center before delivering it to the application.
2.  Connect to clouds in other locations – Deploy a virtual router to connect to remote cloud resources. In the diagram below an enterprise based in Stockholm deploys a virtual router to connect to cloud resources located in Amsterdam. With Network Edge, the router is deployed and connected in minutes.
3. Hybrid cloud firewall – Protect corporate resources from the risk of attack from public-facing applications in the cloud by deploying a virtual firewall between corporate apps and the public cloud.
4. Branch to cloud SD-WAN –  Quickly deploy a virtual SD-WAN to reroute traffic across multiple clouds as needed without the need to establish connections between a branch office and each of multiple cloud providers.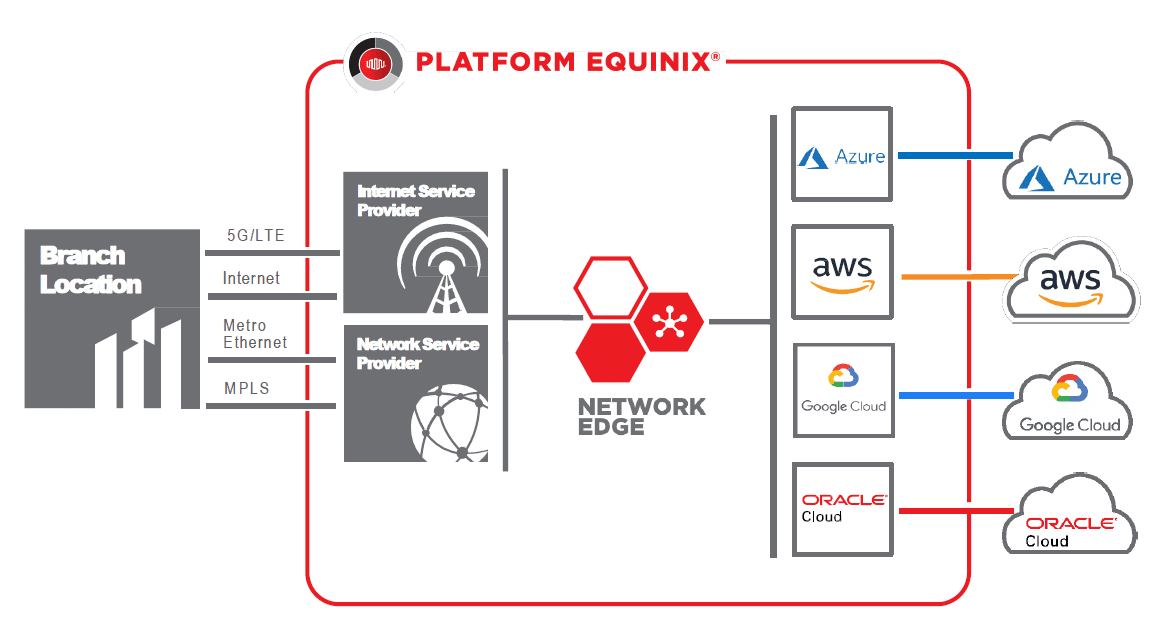 In each of these examples, virtual functions deployed on Platform Equinix via Network Edge enables an enterprise to quickly establish the needed connectivity without significant capital expenditures or delays associated with network hardware procurement.
Virtual Network Functions Strategy for Network Edge Connectivity
Based on the success that Equinix has seen with Network Edge, we'll continue to expand the virtual network functions offerings to address additional needs to optimize connectivity among data centers and applications running on the network edge, with a focus on making deployment as easy as possible. Network engineers interested in hands-on experience in using Network Edge are invited to start the free trial now.