Dating back more than 110 years, International Women's Day (IWD) is celebrated every year on March 8. The theme for this year is #EachforEqual, which is about "Collective Individualism." It's the idea that we are all parts of a whole, and collectively our individual actions, conversations and mindsets can make change happen.
This reminds me of one of my favorite quotes by Liza Talusan which is "When we do not actively include, we actively exclude."[i] I really like this quote because, to me, it reinforces two things. First, to create a culture of diversity, inclusion and belonging requires action, not just words. It's not something that's just going to happen or that someone else is going to solve. It requires us to be mindful and intentional about our thoughts and actions. Secondly, these are actions that each one of us can take. Often people feel like they can't have an impact as one person, the proverbial drop in the ocean. They may feel like "what difference will it make if I invite one person to this meeting or lunch or if I try to make another person's voice heard?" But in reality, it does matter a lot because, when a lot of people take small steps, it compounds into a huge impact.
Learn More about Diversity, Inclusion & Belonging at Equinix

At Equinix, Diversity, Inclusion and Belonging (DIB) is a top priority. This year launched a new CEO-driven initiative that builds on the foundational work that was already taking place throughout the organization.


Read More
3 ways that Equinix advances women's leadership
Equality is not about converging towards similarity – i.e. every person dressing the same, talking the same way, etc. Instead, it is about having equal access to opportunities no matter how you look, your gender, where you come from, your sexual orientation, religion, etc. It is about taking advantage of the richness of the diversity of perspectives we all bring the table – to find better solutions together, to be more innovative and have an environment where every single person can thrive. I feel proud to be part of an organization that is going beyond lip service to diversity, in general, and gender parity in particular, to foster and advance equal access to opportunities for our women leaders.
1. Leadership and advocacy from the top: First and foremost, our leadership team is invested in the cause and it's making a huge difference. Charles Meyers has joined several hundred CEOs in taking a pledge to build more inclusive workplaces through CEO ACT!ON for Diversity & InclusionTM. Equinix is also part of the Paradigm for Parity®, a coalition of senior leaders committed to addressing the corporate leadership gender gap.[ii] And, as a "Man Who Gets It", Charles Meyers was awarded the 2020 Watermark Bill Campbell Award for his advocacy and positive influence on the professional lives of women.[iii] In addition to these visible commitments and recognition, there are a number of other ways our leadership team is actively engaged. Examples are:
We have launched a cross-functional, global Diversity, Inclusion & Belonging (DIB) working group, led by the Office of the CEO.
The Allies Council, a group of senior executives who advocate for underrepresented communities at Equinix, has doubled in size.
In 2019, the Equinix Women Leaders Network (EWLN) sponsored 137 events globally, including 26 sessions with Equinix executives.
Two women, Sandra Rivera and Adaire Fox-Martin, recently joined our Board of Directors, bringing female representation up to nearly a third of the Board.
Create a culture of diversity, inclusion and belonging requires action, not just words.
Equinix Chief Strategy and Development Officer, Eric Schwartz, with EWLN in Tokyo[iv]
Equinix Chief Customer and Revenue Officer, Karl Strohmeyer, with EWLN in Hong Kong[v]
2. External recognition and visibility: #WomenAtEquinix are gaining more external recognition and awards. As these women are recognized, they become a fantastic role model for other women in the company. Some recent examples include:
Congratulations to #Equinix CEO Charles Meyers (@CharlesMeyers) who accepted the Bill Campbell Award at last night's "2020 Watermark Make Your Mark" event. Equinix is proud to have a leader who champions diversity and is a vocal advocate of women. #InServiceTo pic.twitter.com/xW6L7InS14

— Equinix, Inc. (@Equinix) January 30, 2020
It goes beyond awards too – the voice of Equinix is becoming more diverse as our women leaders are increasingly being seen as thought leaders and influencers at events, writing blogs, participating in panels, etc. For instance, just in the past few months:
1/3
Nearly one-third of the Equinix Board of Directors are women. Sandra Rivera & Adaire Fox-Martin joined this year.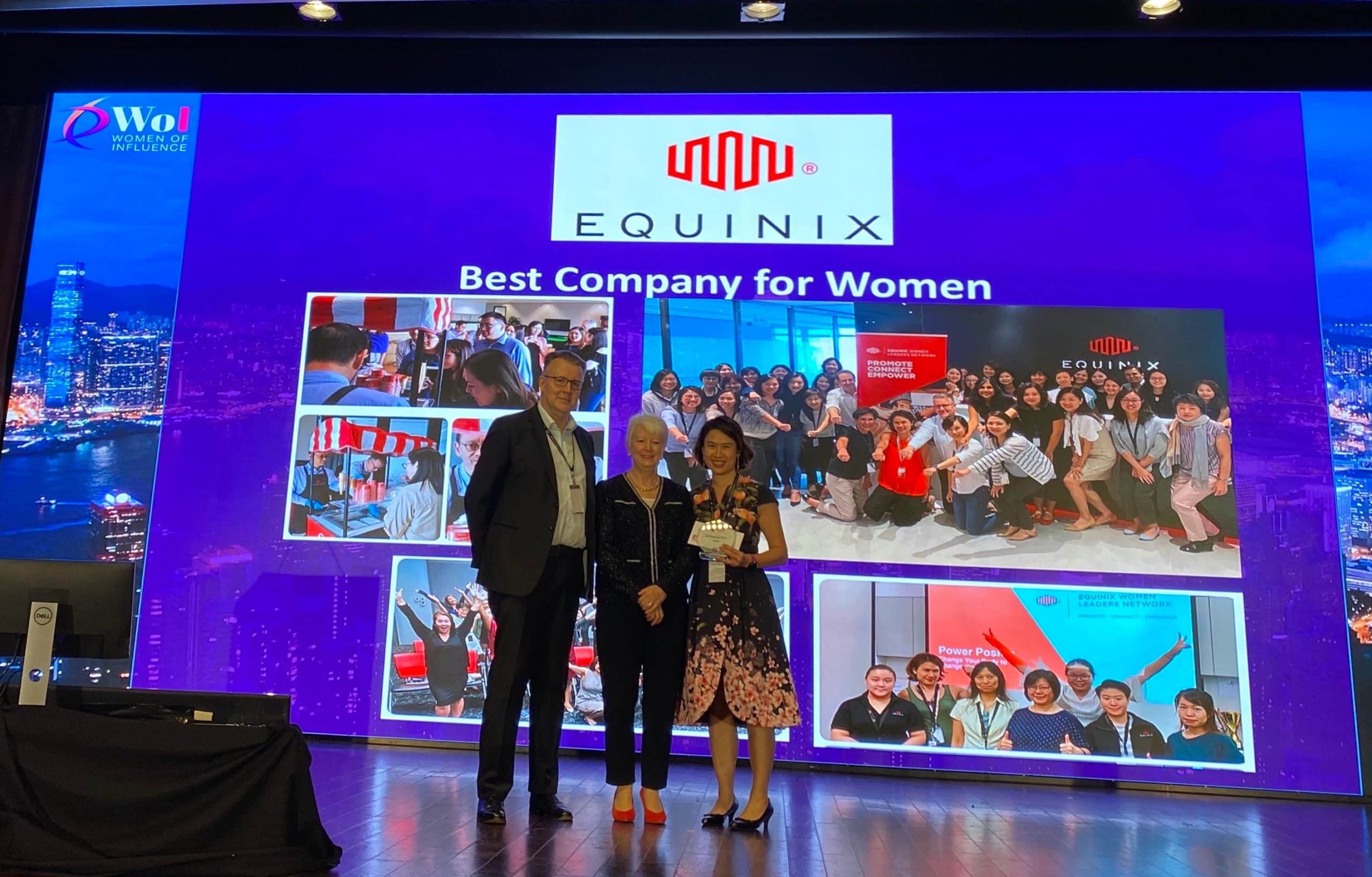 3. Networking and skill-building:EWLN was founded in 2011 with a vision to promote gender diversity and develop women's leadership, and it has grown organically, today reaching all our women employees around the world. In March 2016, Ada Ho and I volunteered to found an EWLN chapter for Asia-Pacific (APAC), with a goal to connect our community of female talent in the region with our global counterparts and to deliver a consistent and meaningful community experience aligned to the core pillars of EWLN to promote, connect and empower. In trying to scale across the region, however, one of our key learnings was that it works best when you localize the content and have local leaders on the ground running the initiatives and events. So our focus has shifted to, "how can we enable local leaders to deliver their events with their local context," such as providing live translators when our executives speak at events in the region. Today we have three chapter leads and over a dozen EWLN Ambassadors across our APAC markets running local programs for 475+ members. They are part of our growing global community of 85+ EWLN Ambassadors at 27 sites around the world.
I feel so grateful to have the opportunity to play a role in advancing our gender parity vision and in creating an inclusive culture where every employee can feel "I'm safe, I belong and I matter". This is such a powerful mantra and a call-to-action for each and every employee at Equinix. We can and do make a difference and, through the power of our collective action, we are a company that is in service to our customers, employees and communities.
If there's one thing I hope people will take away, it's this – "Be inspired by our leaders, be inspired by each other and be inspired by opportunities to learn."
Learn more about a career with Equinix and our diversity, inclusion and belonging initiatives.
You may also be interested in reading "It's time to close the gender gap for women in tech" by our Chief Information Officer, Milind Wagle.
[i]Stonehill College, PRACTICING INCLUSION: Icebreakers and Team builders for diversity, quote attributed to Liza A. Talusan Director of Intercultural Affairs, July 2012.
[ii]CEO ACT!ON for Diversity & InclusionTM ; Paradigm for Parity®.
[iii] Watermark, Make Your Mark Award Criteria and Charles Meyers: Make Your Mark Award Winner Spotlight, Jan 2020.
[vi] Watermark, Make Your Mark Award Criteria
85+
Ambassadors lead our @Equinix Women Leaders Network (EWLN) in 27 sites around the world. All Equinix women are invited to join the community. #IWD2020 #WomenAtEquinix