When we turned the corner on this new decade, no one imagined that a global pandemic would alter the course of the global economy so dramatically. But as the World Bank reports, "COVID-19 has triggered the deepest global recession in decades."[i] In looking at how information technology (IT) can help companies and their customers weather this storm, we turned to the industry experts to learn more about where today's businesses are putting their valuable IT investments. The new normal that is emerging is businesses everywhere are pivoting to a new reality of remote work and contactless interaction.
Scaling Remote Workforce & Online Collaboration
Privately and securely connect to Zoom, WebEx, DropBox and hundreds of application, cloud service, network and other providers. Quickly and easily interconnect workers, customers and critical cloud services to meet fast-changing business demands.
Read More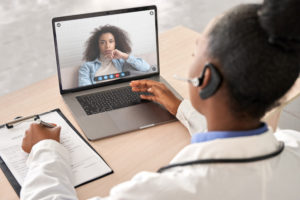 In late 2019, prior to COVID-19 escalating to a global pandemic, TechTarget conducted its 2020 IT Priorities Survey. The top five IT spending drivers (as seen in the diagram below) reflect technology trends that we've seen with our customers before the pandemic and during, as they navigate the new normal of a growing remote workforce. As reported by TechTarget, network and infrastructure modernization, digital transformation, cybersecurity, cloud computing and artificial Intelligence (AI) are still top of mind for IT teams amid the pandemic.[ii]
Source: TechTarget
Though TechTarget's findings indicate that businesses are still maintaining their strategic IT course during the general economic downturn, it's not going to be smooth sailing given the recent cuts in IT budgets and an uncertain future in terms of when and where new revenue will be coming in. According to Gartner, "Even as businesses in many industries and regions race to reopen, the COVID-19 pandemic
still poses global economic issues. The 2020 IT spending across industries is expected to fall
6.3% (in constant U.S. dollars), down from 4.6% expected in the pre-pandemic period."[iii]
Cloud computing is moving forward
Respondents in IDC's COVID-19 Impact on IT Spending survey cited (1) Cloud Computing, (2) Workforce Performance Management, and (3) Cloud Software as being the tech investments that will benefit the most from increased demand.[iv] Companies are increasingly turning to cloud services to extend or replace their physical IT capabilities faster and to gain greater agility. We see our customers accelerating their deployments of hybrid multicloud infrastructures that leverage multiple cloud and SaaS providers such as AWS, Microsoft Azure, Google Cloud, Cisco Webex, Zoom, SAP and Salesforce. Much of the heightened demand is due to the pandemic interrupting the IT supply chain, with components not being available, physical IT equipment slow to arrive and personnel not being able to enter companies facilities to install it.
We also see how companies are turning to projects that solve immediate needs and demonstrate a faster ROI, while putting larger-scope transformation projects on hold for now. Many companies went through emergency-response IT triage processes and are now optimizing what they can without making major project investments. However, many companies are on the cusp of making more investments in projects that digitize processes and remove human touch/interaction.
Unified Communications and Collaboration (UCC) takes center stage
The global pandemic turned up the volume on UCC as every sector has faced the need to operate at a distance. Per IDC, companies surveyed said they have increased their UCC investment by 5% since early March 2020, with government and education industry sectors leading the way. And 63% of the respondents said that they plan to continue to use video conferencing services post-pandemic.[v]
No one ever anticipated that companies worldwide would require nearly 100% of their employees to stay home and do business over video teleconferencing, but cloud-based UCC platforms, such as Microsoft Teams, Cisco Webex and Zoom, spontaneously rose to the challenge. A backbone built on internet exchanges, to support peak capacity and then some, provided the foundation for these UCC platforms to shoulder the new load from the huge increase in remote workers. Private access was also provided by the direct, high-speed (10G/100G) interconnection to their platforms on Platform Equinix and dynamically scaled on-demand.
Remote working: The new normal needs VDI and DaaS
We've also seen a number of customers adopting virtual desktop infrastructure (VDI) and Desktop-as-a-Service (DaaS) solutions on Platform Equinix® to extend their on-premises footprint into the cloud and scale to meet the needs of their growing remote workforce. Microsoft alone has seen a 3-fold increase in the usage of its Windows Virtual Desktop offering.[vi]
Moving from physical to digital was an absolute necessity for working from home employees who were not equipped with laptops or home computers, but may have a mobile smart device such as a phone or tablet. Add to that, the supply chain for laptops, webcams, etc. evaporating overnight. VDI and DaaS are  pragmatic solutions when almost no others exist and they also address security concerns for remote workers. Today's VDI and DaaS solutions have demonstrated how cloud-based, private desktop virtualization gives companies the flexibility, accessibility, control and cost efficiency required to drive greater digital transformation during the global pandemic.
These are just a few of the technology areas that are enabling businesses and their employees to weather the global pandemic and prepare whatever the future has in store. Our Global Solutions Architects experts help enterprises see how they can leverage these and other digital technologies on Platform Equinix to meet today's and tomorrow's IT challenges.
Learn more about how you can scale your IT infrastructure for your remote workforce.
[i] The World Bank, "Pandemic, Recession: The Global Economy in Crisis," June, 2020.  
[ii] TechTarget SearchCIO, "Top 2020 IT priorities hold fast amid COVID-19; spending takes hit," May 26, 2020.
[iii] Gartner, "Forecast Analysis: Enterprise IT Spending Across Vertical Industries, Worldwide, 2Q20,"
Published 28, July 2020 – ID G00728302, by Analysts Inna Agamirzian, Lisa Unden-Farboud, Venecia Liu, Gregor Petri, Grigory Betskov, Rika Narisawa, Moutusi Sau, Irma Fabular, James Ingham, Seth Feder, Rajesh Narayan, Jeff Casey, Sandeep Unni, Alexander Hoeppe.
[iv] IDC, "Leaning on Digital Transformation Investments to Meet the Challenges of the COVID-19 Pandemic,"
Apr 2020 – Market Presentation – Doc # US46201920.
[v] IDC, "COVID-19 & Enterprise Networking: Assessing the Impact, Planning for the Future," Jul 2020 – Web Conference Proceeding: Tech Supplier – Doc # WC20200709.
[vi] Brian Madden, "Windows Virtual Desktop (WVD) 6 months in, what do we have to show for it?," April 14, 2020.