The Global Interconnection Index (GXI) Volume 4, a report published by Equinix, predicts that by 2023, interconnection bandwidth[i] in North America will lead the world with a 41% share. The GXI Vol 4. tracks, measures and forecasts the growth of interconnection bandwidth worldwide and reveals critical insights into the digital infrastructure and interconnection deployments of digital leaders.
Global interconnection bandwidth is anticipated to increase at a 45% compound annual growth rate (CAGR) between 2019 – 2023, according to GXI Vol 4. That's a total of 16,300+ Terabits per second (Tbps) worldwide by 2023. But did you know that by 2023, the installed interconnection bandwidth capacity in North America will make up the majority of that bandwidth at 6,615 Tbps? This is a reflection of the number of regional companies and multinationals in North America that are leaders in deploying digital infrastructure that leverage interconnection for competitive advantage.
See How Digital Leaders Are Prepared for Whatever Is Next
GXI Vol. 4 tracks shifts in the digital economy and their impacts on digital business. Explore how leaders use their digital infrastructure to fuel growth, where it's happening and how you can use interconnection to stay competitive.
View GXI Volume 4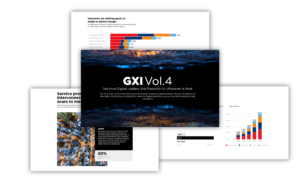 North America Interconnection Bandwidth Growth (Tbps) – 2019 – 2023
Increased internet and remote worker traffic is driving interconnection growth
Converging macro trends in digital business, urbanization, cybersecurity, data volumes/compliance and business ecosystems have been driving North American companies to prioritize digital infrastructure and interconnection strategies. This approach is allowing companies to integrate centralized, physical infrastructure with more agile, digital technologies at the edge. When the global COVID-19 pandemic hit in 2020, digital transformation became a necessary imperative to many companies' survival, causing North American businesses to harness interconnection to accelerate digital adoption.
For example, most companies could handle about 20% of their employees connecting to corporate networks remotely over the internet, but 100%—that created a problem! Many more public internet connections were required to meet the increased worker demand for accessing corporate resources remotely. This sudden rise in internet connections to on-premises and cloud-based corporate applications contributed to accelerated rates of growth in Telecommunications and Cloud & IT Services interconnection bandwidth, estimated to be 48% and 45% CAGR, respectively, over five years.
Interconnection to North American companies supporting Unified Communications as a Service (UCaaS) platforms such as Cisco Webex®, Microsoft Teams and Zoom is also exploding, contributing to the Telecommunications and Cloud & IT Services soaring interconnection growth. As a result, North America is expected to dominate the UCaaS market share by revenue in the coming years at US $13.34 billion.[ii]
Service providers are taking the digital lead
Following the global trend, North American service providers are bypassing enterprises in interconnection bandwidth growth with an estimated 47% CAGR. This is due to many enterprises leveraging service providers' digital infrastructure during the COVID-19 pandemic. Telecommunications providers lead the industry with a projected 48% CAGR, and Cloud & IT Services are next with an estimated 45% CAGR. Increased internet traffic and UCaaS usage among remote workers is contributing to these increases. In addition, UCaaS platforms such as Zoom are enabling audiences to enjoy live entertainment broadcasts and sporting events virtually.
New digital priorities are emerging in multiple industries due to COVID-19
The COVID-19 pandemic has been a catalyst for digital transformation among many industries that are not traditional digital leaders. Government & Education interconnection growth is expected to accelerate by a 48% CAGR for increased data sharing, artificial intelligence and real-time decision-making to support citizen initiatives, and public school and university online learning.
The increase in home entertainment while sheltering in place contributes to the interconnection growth in the Content & Digital Media sector (46% CAGR). Content delivery at the edge requires low-latency interconnection as more users stream videos, play online games and binge watch their favorite series.
COVID-19 is also accelerating Healthcare & Life Sciences interconnection growth and digital adoption  ̶  in 2021, the sector is expected to push ahead of most other industries with the fastest interconnection five-year CAGR (41%). Telehealth has also made digital payments a necessity, creating an alliance between healthcare providers, insurers and retail banking to enable contactless payments.
These industries span major metro markets across North America and need reliable interconnection between metro centers and regional users as digital infrastructure moves to the edge. Digital deployments also require hybrid multicloud architectures and SD-WANs that deliver direct and secure, proximate connectivity to clouds in these metros to ensure high-performance access for users, data and analytics.
Digital leaders are accelerating digital infrastructure and interconnection
Digital businesses in all industries across North America are leveraging digital infrastructure and interconnection on Platform Equinix® to drive greater competitive advantage. Sentara Healthcare harnessed hybrid multicloud to support its 1,455% increase in its patients' telemedicine usage. And KEMET Electronics moved its critical business applications and disaster recovery to the cloud and deployed an SD-WAN backbone to deliver a seamless experience to 5x more remote users.
To learn more about how you can benchmark your digital-readiness against today's digital leaders and increase your business advantage, read the Global Interconnection Index Volume 4.
You may also like to read:
Powering Digital Leaders: Harnessing Your Digital Infrastructure to Gain Business Advantage
[i] Interconnection bandwidth is the total capacity provisioned to privately and directly exchange traffic,
with a diverse set of partners and providers, at distributed IT exchange points inside carrier-neutral
colocation data centers.
[ii] Fortune Business Insights, "UCaaS Market Worth USD 36.45 Billion at 10.5% CAGR," June 02, 2020.