Did you know that interconnection is continuing to grow even as the global economy slows down? This is evident in Europe where demand for hyperscale, colocation and cloud services continues to rise unabated, driving the need for interconnection – the direct and private exchange of traffic between key business partners. According to the Global Interconnection Index (GXI) Volume 4, a market study published by Equinix, interconnection traffic in Europe will continue growing at a steady rate of 45% compound annual growth rate (CAGR) over five years (2019 – 2023), on par with the global growth rate. The estimates that by 2023, installed interconnection bandwidth[i] capacity worldwide could reach 16,300+ Terabits per second (Tbps). At that time, Europe is expected to account for 23% (3,782 Tbps) of the projected global installed interconnection bandwidth.
EUROPEAN PERCENTAGE OF GLOBAL INTERCONNECTION BANDWIDTH BY 2023
EUROPEAN INTERCONNECTION BANDWIDTH GROWTH (TBPS): 2019-2023
See How Digital Leaders Are Prepared for Whatever Is Next
GXI Vol. 4 tracks shifts in the digital economy and their impacts on digital business. Explore how leaders use their digital infrastructure to fuel growth, where it's happening and how you can use interconnection to stay competitive.
View GXI Volume 4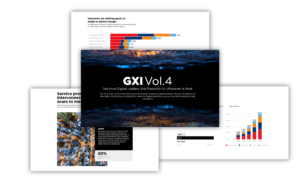 Trends driving European interconnection growth
The GXI tracks, measures and forecasts the growth of the private interconnection bandwidth required to support the companies driving the digital economy. It illustrates how key global trends, compounded by the impact of COVID-19, are intensifying the need for digital infrastructure more than ever before. These include rapid growth in digital business, urbanization, cybersecurity risk, data volumes and compliance requirements, and business ecosystems.
Europe is known for having some of the most stringent data privacy and protection regulations globally. While that is not changing, the European Union (EU) is looking to promote the growth of the digital economy in Europe. New policies, such as the Digital Services Act, the Digital Single Market, Digital Finance Strategy and more aim to modernize the legal framework for digital services, improve access to online products and services and foster the growth of digital networks and services.
Public-private consortiums backing initiatives to strengthen digital innovation in Europe are also expanding. Examples include GAIA-X, a project to develop a European cloud computing infrastructure to rival U.S. tech giants, the European Artificial Intelligence (AI) Fund to promote an ecosystem of European organizations working on policy and technology, and the 5G Public Private Partnership (5G PPP) collaborative research program.
All of these trends combined are driving growth in private interconnection in Europe.
Service providers are outpacing all other industries in Europe
Before COVID-19, enterprise interconnection bandwidth was growing faster than digital service provider deployments. That trend has now flipped as service providers have scaled up to meet skyrocketing demand in the midst of a global pandemic. Many European enterprises still in the early stages of digital transformation were not able to meet growing remote user needs with their legacy on-premises infrastructure. Needing to adapt quickly, they turned to digital-leading service providers to help with more agile digital infrastructure at the edge. As a result, Telecommunications and Cloud & IT Services combined are expected to comprise over half (54%), or 2,052 Tbps, of the total installed interconnection bandwidth capacity in Europe by 2023.
The Content & Digital Media (CDM) sector was already moving to modern digital infrastructure to support cloud-based content workflows, connect partners in the media ecosystem and adapt to a rapidly changing market. The surge in demand for online entertainment during the COVID-19 pandemic only accelerated digital transformation for CDM companies. The second quarter of this year saw a year-on-year increase in streamed content of 63% globally – in Europe, where many countries went into a strict lockdown, the increase was a staggering 134%.[ii] Subscription-based video-on-demand services have soared thanks to the lockdown – Netflix gained 7 million new subscribers in Europe, the Middle East and Africa (EMEA) and Disney+ nearly doubled its subscribers to 50 million after rolling out to Europe and India earlier this year.[iii] With this added subscriber boost brought by the pandemic, the GXI predicts CDM will be the fastest growing sector in interconnection bandwidth at a 52% CAGR.
But disruption is also pushing other industries forward
The GXI also illustrates how industries that have not traditionally led in digital adoption are now stepping up due to sudden demands brought on by European countries' lockdown orders. The public sector is showing a strong interconnection growth rate as Healthcare, Life Sciences, Government and Education have had to respond to the urgent need to increase digital services such as telemedicine, public services and online learning during the global pandemic. In Europe, Healthcare & Life Sciences is expected to be the second fastest-growing industry with a 49% CAGR, and the Government & Education sector comes in third at 47% CAGR.
Interconnection is fueling digital leadership
In Europe, companies are quickly deploying and scaling digital infrastructure and interconnection on Platform Equinix® to accelerate their business advantage in a fast-changing world. Examples of this digital leadership include:
A leading connected car service provider that offers telematics services in the U.K. needed a faster, more secure way to expand its services globally. The dedicated Integrated Services Digital Network (ISDN) line it was using in its home country would not work for other countries. By shifting its IT infrastructure to the digital edge on Platform Equinix, closer to clouds, networks, partners and customers, the company was able to accelerate its cloud-first strategy. The company virtually and securely connected to Amazon Web Services (AWS) for vehicle data and routes it to call handlers on telecom operator BT's network. As a result, the company was able to improve bandwidth by 1,000+ times and minimize latency, while ensuring security through dedicated links.
A leading global media services company, Red Bee Media expanded its connectivity on Platform Equinix across Europe to support growth in its Channel Store, where thousands of hours of live content are aggregated from multiple sources over Red Bee's network. Using an interconnection approach to enable content owners and distributors to market and deliver multi-format, live content in real time, Red Bee deployed a hybrid multicloud architecture to support content workflows, gain proximity to users and gain the agility they need to adapt to a fast-changing landscape. Today, the Channel Store delivers over 1,000 active channels with a catalog of over 10,000 that can be spun up quickly whenever needed.
The GXI Volume 4 provides an analysis of over 450 Equinix customer deployments worldwide and their 4,500 implementations. You can benchmark your digital-readiness against these leaders to see how to design and deploy digital infrastructure that leverages interconnection to create your strategic advantage.
Learn more by reading the GXI Volume 4.
You may also be interested in reading:
(eBook) Powering Digital Leaders: Harnessing Your Digital Infrastructure to Gain Business Advantage
GXI Vol. 4 North America Findings
GXI Vol. 4 Asia-Pacific Findings
GXI. Vol. 4 Latin America Findings
[i] Interconnection bandwidth is defined as the total capacity provisioned to privately and directly exchange traffic, with a diverse set of partners and providers, at distributed IT exchange points inside carrier-neutral colocation data centers.
[ii] Conviva, The State of Streaming, Conviva's State of Streaming Infographic – Q2 2020.
[iii] The Verge, Disney Plus surpasses 50 million subscribers, Apr 2020; BBC News, Netflix gets 16 million new sign-ups thanks to lockdown, Apr 2020.