Regardless of where they are in their digital transformation, all businesses have similar priorities: Grow revenue, increase efficiency and reduce costs while expanding innovation and enhancing the user experience. For many companies, revenue growth has dropped as market and competitive pressures rise, leading to a heightened focus on cutting costs and finding new ways to generate value. And, while the global COVID-19 pandemic did not cause these drivers, its impact on businesses and the global economy has intensified them.
The Global Interconnection Index (GXI) Volume 4, an annual market study published by Equinix, shows that digital infrastructure is more important than ever for business success. The GXI tracks, measures and forecasts the growth of the interconnection bandwidth required to support companies driving the digital economy. It also describes how businesses are deploying digital infrastructure and interconnection – the direct and private traffic exchange between key business partners  ̶  to achieve various levels of digital readiness.
New for this year, the GXI is tracking the impact of COVID-19 on enterprise and service provider interconnection bandwidth capacity growth. This data shows that leaders who already had a digital infrastructure in place were better able to weather the disruption and adapt quickly to meet rapid shifts in demand. Their prior investment in a digital foundation on Platform Equinix® using an Interconnection Oriented Architecture® (IOA®) enabled these leaders to scale the benefits of cloud, modernize their IT systems, and extend edge services while reducing cost and improving latency. As a result, they were able to unlock capital for future investments, increase efficiency, expand their digital services for new revenue streams and enhance customer satisfaction.
See How Digital Leaders Are Prepared for Whatever Is Next
GXI Vol. 4 tracks shifts in the digital economy and their impacts on digital business. Explore how leaders use their digital infrastructure to fuel growth, where it's happening and how you can use interconnection to stay competitive.
View GXI Volume 4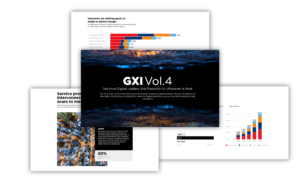 Harness IOA to build it right
IOA is a proven architecture built for better efficiency, integration and capabilities than traditional centralized IT infrastructure. Leveraging the multipoint distributed connectivity in an IOA approach ensures multicloud, multiparty traffic exchange in strategic locations worldwide. This allows businesses to create and connect new global workflows, and increase data exchange and interactions between users, applications and devices with lower latency and improved performance.
3 key initiatives for architecting digital advantage
According to the research presented in the GXI, digital leaders are prioritizing three major infrastructure deployment initiatives that they are implementing, together with direct and secure interconnection, to achieve strategic advantage. These include:
Deploy a Digital Core: Most companies, whether they are digital leaders or followers are already deploying their digital (core) infrastructure to solve for strategic priorities. By deploying digital/virtual infrastructure in strategic interconnection hubs adjacent to rich network and cloud ecosystems, businesses can modernize their IT systems, optimize application performance, and scale while gaining efficiency and reducing cost. This transforms corporate networks and infrastructures into a hybrid IT core that can quickly leverage the benefits of hybrid multicloud integration and business continuity models across local and globally maintained data pools.
Extend Across Edge Locations: Extending (core) infrastructure capabilities to the digital edge allows leaders to increase reach, improve user experience, and build value closer to employees, partners and customers by enabling local engagement and interactions across edge locations. By extending their capabilities to the edge, proximate to users, businesses can solve remote workforce challenges by leveraging secure edge services such as SD-WAN and Secure Access Secure Edge (SASE) capabilities. They can also scale edge computing to support local data management, analytics, low-latency computing, and emerging 5G operations and device requirements.
Enhance and Expand Capabilities Through Digital Exchange: Digital infrastructure that enables participation in digital ecosystems and industry-specific, API-based data marketplaces and exchanges empowers companies to innovate, collaborate and build new digital capabilities and services. For example, they can expand artificial intelligence (AI) and machine learning (ML) capabilities across a global data fabric to gain real-time insights. They can also support new business models leveraging ecosystems of SaaS and B2B partners offering new programmatic capabilities such as electronic payments.
If you think about constructing a house, you start with a robust, yet flexible foundation and build on top of that to ensure stability and resilience, while enabling future expansion. In a similar way, digital leaders start with building their hybrid core digital infrastructure on Platform Equinix and leverage high-speed, low-latency interconnection to expand and enhance their digital edge and digital exchange capabilities. This enables them to realize the best performance possible when delivering IT services, exchanging data and accessing applications.
The diagram above shows how a regional hybrid core digital infrastructure, deployed adjacent to rich ecosystems of clouds and partners, can deliver digital services globally in under 50 milliseconds (ms). Directly interconnecting with application and business partners inside the regional hybrid core ensures secure, low-latency (less than 1 ms) access to cloud services for driving innovation and real-time insights. In addition, bypassing the public internet and extending capabilities across edge locations via local points of presence can support digital requirements under 10 ms, such as online gaming or mobile transactions. This enables local engagement and operations, optimization of commercial flows between business partners and the ability to scale edge computing. Finally, digital exchange of data, applications and services across multiple ecosystems of partners through direct interconnection facilitates the development of new business models, services and capabilities. However, digital exchange happens across the entire end-to-end infrastructure – from the digital core to the far edge – so latency will vary depending on the use case and location of the user accessing the data or application. The ideal scenario is to always have the user as close as possible to the information and digital services they need.
Deploying your digital core
According to the World Economic Forum, an estimated 70% of new value created over the next decade will be based on digitally enabled platform business models.[i] To succeed in this digital economy, businesses need to start by deploying a core hybrid IT infrastructure. This core digital infrastructure typically includes private/public cloud, on-premises/cloud platforms, physical/virtual systems, and is differentiated by its ability to seamlessly support hybrid multicloud architectures. The steps for this foundational initiative include:
Optimizing your network and security architecture to increase efficiency and scalability.
Modernizing corporate IT systems by integrating multicloud capabilities.
Expanding business continuity models across local and global data pools.
Improving application performance and scalability by leveraging cloud adjacent data.
By building an initial footprint on Platform Equinix via interconnection hubs, you can optimize your network, transform your cloud access and invest cost savings into extending digital services to the edge. Leveraging Equinix Fabric (ECX Fabric®) and Network Edge, you can easily expand your footprint and scale your capabilities by using software-defined interconnection to connect to leading cloud and network functions virtualization (NFV) providers. And Platform Equinix enables you to directly and securely access your global IT infrastructure and more than 1,800 networks, 2,900+ cloud and IT service providers, and 9,500+ companies.
The benefits of deploying your core digital infrastructure on Platform Equinix include:
Secure network access, improved bandwidth and reduced latency
Business continuity and reliability at scale
The ability to spin up or down cloud access on demand with lower cloud egress costs
The flexibility to distribute cloud workloads and infrastructure across regions without impacting performance
We've seen one progressive digital leader, Sentara Healthcare, leverage this core digital infrastructure strategy to proactively handle the two-week 1,455% increase in its patients' telemedicine usage during the COVID-19 pandemic. The U.S.-based healthcare provider had built a robust digital core on Platform Equinix consisting of an SD-WAN and hybrid multicloud foundation to integrate its network of 12 hospitals and 300 care centers. Sentara's chief enterprise architect, Matt Douglas had this to say about scaling up to meet the dramatic increase in demand for access to its patient portal:
"We've also seen up to 60,000 visitors per day accessing our Sentara and Optima Patient Portal via the mobile app to view patient records, billing, insurance and test results. We are seeing 500% more demand from home interconnectivity over our network to that portal. If the global players like Equinix were not in this world, healthcare organizations like ours would not have been able to withstand this epidemic."
This is just one of many examples of a digital leader leveraging a robust digital infrastructure core with a hybrid multicloud architecture to scale its services quickly and deliver immediate value to its users.
In upcoming blog articles, we'll be covering how business leaders are adding digital edge and exchange deployments to their core infrastructure for greater business advantage.
Read the GXI Volume 4 to learn how you can advance your digital readiness.
You may also be interested in reading:
Powering Digital Leaders: Harnessing Your Digital Infrastructure to Gain Business Advantage
[i] World Economic Forum, Shaping the Future of Digital Economy and New Value Creation.