The first article of this series, "3 Things You Can Do to Create Digital Advantage," describes the importance of building a digital foundation that leverages interconnection to gain competitive advantage. According to key findings in the Global Interconnection Index (GXI) Volume 4, an annual market study published by Equinix, leaders are staying ahead – even with the disruptive impact of COVID-19 – by prioritizing three digital deployment initiatives  ̶  Core, Edge and Exchange. Leaders are also harnessing an Interconnection Oriented Architecture® (IOA®) on Platform Equinix® at digital core, edge and exchange points to scale the benefits of cloud, modernize their IT systems, and extend edge services while reducing cost and improving latency. As a result, they were able to adapt quickly, increase efficiency and unlock capital to forward-fund their next objectives.
This blog will discuss the next deployment initiative that these digital leaders employ: extend across edge locations.
See How Digital Leaders Are Prepared for Whatever Is Next
GXI Vol. 4 tracks shifts in the digital economy and their impacts on digital business. Explore how leaders use their digital infrastructure to fuel growth, where it's happening and how you can use interconnection to stay competitive.
View GXI Volume 4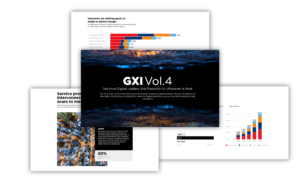 Trends driving an expanding edge
Prior to the global pandemic, five macro trends were driving the need for digital infrastructure to address key business challenges with efficiency, scalability and security. These include rapid growth in digital business, urbanization, cybersecurity risk, data volumes and compliance requirements, and business ecosystems. And, while COVID-19 deepened the impact of all of these trends, these three in particular are accelerating the need for digital infrastructure across edge locations:
Urbanization drives an increase in population centers needing digital engagement. However, the global pandemic has caused a shift in work away from city centers to home. This newly caused an expansion in the overall digital edge, which has broadened to more markets as people spread out.
Digital Business: As a result, businesses had to increase their edge capabilities to support local interconnection between user services, data, clouds and ecosystem partners by transforming their network architecture while distributing digital infrastructure in strategic locations. This drives a need for network optimization and scaling across regions.
Cybersecurity: Distributed denial of service (DDoS) attacks have risen every year, but a newly remote workforce has greatly expanded the attack surface. Hackers have been taking advantage of these vulnerabilities as attacks have increased over 500% in the first two quarters of this year.[i] Centralized security models cannot adapt to new threats at the rate and scale required, driving a need for global distributed security via interconnection.
Extending across edge locations
Extending digital infrastructure capabilities closer to edge locations allows leaders to increase reach, improve user experience and build value closer to employees, partners and customers. The steps for this deployment initiative include:
Solving remote workforce challenges by leveraging SD-WAN and Secure Access Secure Edge (SASE) capabilities to enable direct and secure local engagement and interactions.
Securely managing and aggregating data from internet of things (IoT) platforms.
Distributing points of presence (PoPs) to support emerging 5G operations and to secure growing device requirements.
Scaling edge computing to support local data management, analytics and low-latency computing.
By extending your digital footprint on Platform Equinix across locations that can support access to distributed places of business, employees, partners and customers in under 10 milliseconds (ms), you can transform the user experience, improve performance and security and optimize commercial flows with business partners. Platform Equinix enables you to interconnect physically and virtually to more than 1,800 networks, 2,900+ cloud and IT service providers, and 9,500+ companies across 63 metros. With interconnection services such as Equinix Cloud Exchange Fabric® (ECX Fabric®) and Network Edge, you can easily expand your digital footprint to the edge and scale your capabilities via software-defined interconnection to connect to leading cloud and network functions virtualization (NFV) providers, as well as connect your own distributed infrastructure.
The benefits of extending your digital infrastructure to the edge on Platform Equinix include:
Distributed and scalable edge and security capabilities and services
Edge presence and compute for location analytics and insights
Remote workforce support
Reduced latency for cloud workloads and the flexibility to distribute infrastructure across regions
Digital leaders are extending to the edge via interconnection
Digital leaders are extending their digital infrastructure and interconnection on Platform Equinix to accelerate their growth in a rapidly shifting landscape. These include:
Online gaming companies know that speed is essential for the best gaming experience. While a latency of 20 – 100 milliseconds (ms) may work for some games, it will still cause noticeable lag. To avoid player frustration, a latency of under 20 ms is the goal. Serious gamers even have text overlays to monitor their ping rate at every second as it could mean life or death in a game. To speed up the player experience, online gaming companies such as Zenlayer and Blade have been quick to harness the power of interconnection on Platform Equinix to extend their digital infrastructure to the edge, close to players. As a result, they are able to maintain a consistent quality player experience regardless of location or number of concurrent users. More recently, cloud gaming company Loudplay, in collaboration with AirSpeed, is using interconnection and edge computing to expand its service model across EMEA and Asia. With ECX Fabric, the Loudplay platform is capable of quickly scaling from 10,000 users to as many as 20 million users, as well as support resource intensive games and business applications such as 3D modeling. As a result, the company was easily able to handle the more than 110% increase in users on its platform since the outbreak of COVID-19 and is well-positioned to achieve its goal of increasing its user base from 200,000 users to 500,000 by year-end 2021.
Streaming content providers must also overcome the physical distance between digital media content and end users to ensure a high-quality viewing experience. This means that content providers need to process the streaming feed as close as possible to their audience to minimize latency. For example, sports streaming provider DAZN[ii] leveraged interconnection on Platform Equinix to expand into multiple global markets and reach dispersed users at the digital edge. Leading global media services company, Red Bee Media, also leveraged an interconnection approach to support growth in its Channel Store. Proximity to content distributors and their own points of presence (PoPs) plays a key role in how Red Bee delivers its services. On Platform Equinix, Red Bee can easily interconnect to the key partners and providers it needs throughout the content acquisition and distribution process. Today, the Channel Store delivers over 1,000 active channels with a catalog of over 10,000 that can be spun up quickly whenever needed.
Stay tuned for the final blog in this series where we'll cover how business leaders are enhancing their capabilities through digital exchange.
Read the GXI Volume 4 to learn how you can advance your digital readiness.
You may also be interested in reading:
Powering Digital Leaders: Harnessing Your Digital Infrastructure to Gain Business Advantage
Creating Digital Advantage Part 1: Deploy a Digital Core
[i] Nexusguard, DDoS Threat Report 2020 Q1 and DDoS Threat Report 2020 Q2.
[ii] Forbes, Field of Streams: How Big Data, Cloud and Connectivity Fuels DAZN's Global Expansion, August 2018.