Although digital transformation has been on the radar of most businesses for years, there was some uncertainty regarding the urgency and how to prioritize digital transformation, as businesses all have different agendas for reforming their infrastructure. However, 2020 silenced any lingering doubts about digital transformation. The pandemic impelled business leaders to rethink their digital infrastructure strategy—digital infrastructure is no longer visionary; it's mandatory. Organizations now have to make a shift in thinking from "infrastructure that supports the business" to "digital infrastructure that drives the business."
Since the beginning of the pandemic, IDC has been tracking organizations' response and tech buying sentiment. One data point remained consistent: 80% of organizations in the region were expecting revenue declines in 2020, but only 20% expected a reduction in technology spending across the same period. Unquestionably, businesses are increasingly recognizing the critical role that technology plays in enabling business continuity during a crisis, optimizing costs as part of an economic slowdown, enabling business resiliency in times of recession, and operating as a digital enterprise to lead into the next normal.
To support businesses to ride out the storm and flourish, we sat down with Sandra Ng, Group Vice President, Practice Group, IDC Asia-Pacific, to discuss the trends shaping the future digital landscape and how businesses can gain a competitive advantage as we move into a post-pandemic world.
Leveraging a Digital Infrastructure Ecosystem to Gain Competitive Advantage
This IDC event highlights key market trends and provided insights on how organizations could leverage digital infrastructure to build resiliency and gain a competitive advantage in uncertain economic environments.
Download Now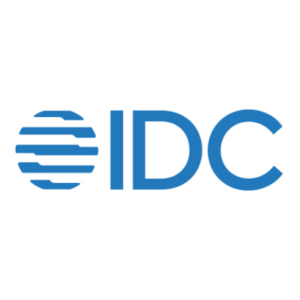 Top five trends to keep an eye on 
#1 The digital economy is our destiny
According to IDC, the economy accelerates its digital destiny with at least 65% of Asia-Pacific GDP estimated to be digitalized by 2022, and digitalization will drive US$1.2 trillion of direct DX investments from 2020 to 2023.[1] This becomes more evident as worldwide travel restrictions are expected to continue for an undetermined period of time. Enterprises not only need to manage distributed workforces and resources, more importantly they need to manage them efficiently and judiciously so they can stay ahead of the game. To get the competitive edge, businesses need to focus on three key areas: the ability to respond quickly to change, to win market share with speed, and to innovate via experimentation and rapid commercialization. All of these can only be achieved with a future-ready digital infrastructure.
#2 Critical infrastructure tops CEO's agenda
In an IDC survey conducted prior to COVID-19 at the beginning of 2020, IDC found that building a digital IT infrastructure to support resilient operations and pervasive experiences was at the top of CEOs' agendas in the next five years. Given the growing need for reliable and scalable IT infrastructure, IDC predicted that by 2023, 65% of digitally transformed enterprises would be relying on key infrastructure metrics tied to optimization, resiliency, and ongoing enhancement to drive C-level decision-making.[2] This highlights the strategic role that digital infrastructure plays in a company's success, laying a solid foundation for the company to adapt quickly, respond swiftly and ultimately succeed.
#3 Future-proofing business with digital resiliency
Resiliency is no longer limited to mitigating operational risks and maintaining the business. Now companies have to take digital resiliency into account as a key consideration when evaluating their readiness for unexpected disruptions. With digital resiliency, businesses can rapidly adapt to disruptions, leverage digital capabilities to maintain continuous business operation, and quickly adjust to take advantage of changed conditions. This is bringing to the forefront the need for digital infrastructure to improve end-user experience and help ensure business resiliency in an ever-evolving landscape.
#4 Greater performance with hybrid work model
There is no question that the pandemic has fundamentally changed the traditional work model. Remote working is not just making a huge jump in popularity; it has become necessary for businesses to navigate the new normal. With the prevalence of a contactless environment and social distancing measures in place, the hybrid model will continue to dominate in 2021 and beyond. This is fueling the demands for digital infrastructure, which needs to be more resilient and scalable to facilitate efficient and effective collaboration between employees.
#5 New business values with cloud ecosystems
One of the most notable consequences of the COVID-19 pandemic is that the world has become more connected than ever, despite countries going through lockdowns of varying degrees. Pioneering enterprises seek out collaboration opportunities and proactively look at expanding and innovating with their partner ecosystem to create new business models in order to compete and lead. IDC's research indicates that by 2023, 60% of enterprises will share information and data to cloud-based ecosystems to enhance internal operations and innovation and/or for collective monetization.[3] A reliable platform where business partners can gather to connect and exchange data and information directly and securely is essential for innovation.
Leveraging digital infrastructure to win the competitive edge
Ultimately, riding on the digital wave requires the support of a dynamic digital infrastructure. Faced with complex and fragmented global infrastructure spanning private and public environments, businesses need a simple way to bring together digital infrastructure that encompasses a choice of multiple providers, distributed geographies and hybrid multicloud architectures. These are the areas Equinix has been devoted to, and we strive to meet businesses' evolving needs. As the world's digital infrastructure company™, we build a trusted global platform, Platform Equinix®, that enables digital leaders to bring together all the right places, partners and possibilities they need to fast-track their digital advantage.
Leveraging our 220+ data centers across 63 metros in 26 countries, businesses can deploy in proximity to employees, customers and locations that matter and achieve low-latency performance with a secure and direct connection. We have created the largest global ecosystem, consisting of nearly 10,000 companies, including 1,800+ networks and 2,900+ cloud and IT service providers, allowing businesses to connect in real time to vendors and partners directly, privately and securely.
With our portfolio of physical and virtual interconnection services, businesses can effortlessly access this dynamic global ecosystem and enjoy the best online experience for consuming and managing integrated physical infrastructure and virtual services globally. Besides, architected for consistency, resiliency and the easy consumption of digital capability, Platform Equinix is the most trusted platform in the market with greater than 99.9999% uptime and five-layer physical security to safeguard your digital journey.
Putting digital infrastructure at the center of the business strategy not only enables businesses to get the edge during the recovery path, but in the long term, it lays the cornerstone for businesses to achieve health and sustainable growth. COVID-19 has demonstrated the value of interconnected digital infrastructure, and we have seen business leaders become increasingly aware of the necessity of transforming their infrastructure. This trend is also reflected in our latest annual market study, Global Interconnection Index Volume 4, which indicates that by 2023, Enterprises' interconnection bandwidth growth rate will overtake that of Service Providers eventually reaching 51%. It is time to accelerate your growth by harnessing Platform Equinix, the one platform with all the power to help you thrive in the new digital economy. Download the event proceedings to find out more details about gaining the competitive advantage with Equinix.
[1] "IDC Future Enterprise/Future of X Practices," IDC, 2020; "IDC DX FutureScape 2021,", IDC, October 2020 – DX Prediction
[2] "IDC FutureScape 2021," IDC< October 2020 – FoDInfra Prediction 4; DXa/CxO Conversations, 2020
[3] "IDC FutureScape 2021," IDC, October 2020 – FoIE Prediction 3; DXa/CxO Conversations, 2020