Let's face it, we need new engagement models for our workforce, new secure experiences to engage users, data aggregation, and enrichment for better intelligence, smart edge capabilities and global compliance. And the list goes on. At the same time, we hear the draw of the "Siren's Song" pulling us closer to the cliffs saying, "Just move everything to the cloud and we can achieve all our goals." Sounds compelling, however, to scale a capability and build a new vision of your business – you need a new hybrid model  – you need a digital infrastructure.
Working with global digital leaders across industries, we've found that the first step in achieving their new digital vision is to overcome the inherent limitations architected into their legacy infrastructure and  network architectures. This is where network optimization becomes the first step in building a digital foundation on the right architecture. For many, network optimization has become synonymous with traditional business transformation. However, coming out of the digital squeeze put on society due to the COVID-19 pandemic, we have found this step equally critical to "Tech Incubators" and "born in the cloud" industries that have to achieve new forms of more cost-effective scale and engagement across their organizations.
See How Digital Leaders Are Prepared for Whatever Is Next
GXI Vol. 4 tracks shifts in the digital economy and their impacts on digital business. Explore how leaders use their digital infrastructure to fuel growth, where it's happening and how you can use interconnection to stay competitive.
Read GXI Volume 4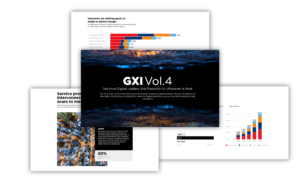 Modernizing your network for digital infrastructure
Network optimization objectives comes in many forms: cost-cutting, bandwidth utilization, latency and packet-loss reduction, availability, distributing/balancing traffic loads, and the list goes on. Many of our customers with legacy multiprotocol label switching (MPLS) networks are moving to modern software-defined and virtual network infrastructures to gain the agility and flexibility they need to reach these highly coveted goals.
Digital leaders also require networks that are as on-demand and elastic as the services they are connecting to, whether it is cloud, SaaS or other digital platforms and applications. And they need to be able to deploy network devices and bandwidth nearly instantaneously, close to users, data, applications, clouds or connected things.
For an optimal digital transformation, look at the network first
The fourth annual Global Interconnection Index (GXI), a market study published by Equinix, illustrates that network optimization is the first of five best practices that businesses can implement as part of their digital transformation strategy. The remaining four include deploying hybrid multicloud, distributed security and data, and application exchange architectures. According to the GXI, "Challenges with distributed engagement, remote workforce support, network efficiency and workflow latency issues are driving the need for businesses to shorten the distance and optimize network segments."
To optimize network segments, businesses need to:
Establish a point of presence in all locations where you have the most digital interaction
Transform wide area networks (WANs) through the deployment of vendor-neutral, proximate interconnection hubs
Expand network capabilities to the edge
Optimize last-mile connectivity through software-defined networking (SDN) and network functions virtualization (NFV) infrastructure.
Private interconnection paves the way for network optimization
Forrester's  "The Total Economic Impact™ Of Equinix," states that "Interconnection, which enables enterprises to move out of owned islands of data and into interconnected hubs of third-party services located at the "edge," or at close physical proximity to the users of these services, is quickly becoming table stakes to achieving digital transformation."[i]
The study shows that organizations that deploy network optimization strategies that leverage software-defined interconnection, such as those as provided by Equinix Fabric™, can cut cloud connectivity and network traffic costs by 70% and 60%, respectively, by provisioning multiple virtual connections to network, clouds, partners and customers through a single physical port. At the same time, they can reduce latency by a minimum of 30% due to distributed and proximate, private interconnection.
In addition to Equinix Fabric, Network Edge services from Equinix have been delivering the deployment of virtual network functions (VNF) devices from leading providers such as: Cisco, Fortinet, Juniper Networks, Palo Alto Networks/CloudGenix, Silver Peak, VMware Velocloud and Versa Networks. This enables businesses to accelerate their digital transformation by extending their network bandwidth capacity and security out to the edge in minutes on Platform Equinix®.
Network optimization is empowering digital leaders in multiple industries
The following Equinix customers have leveraged vendor-neutral, private interconnection on Platform Equinix to transform legacy infrastructures into highly efficient and performant digital infrastructures. Here is just a sampling of network optimization use cases from digital businesses around the world:
KEMET Increases Performance by Moving Critical Apps and DR to the Cloud (EMEA and U.S)
KEMET Electronics Corporation, a leading global electronics manufacturer, ships approximately 54 billion electronic components each year across the globe. The company wanted to quickly and securely move its core, on-premises business application platform, Easy-To-Buy-From (ETBF), to the Oracle Cloud for greater scalability and redundancy. It was also looking to consolidate and simplify its network and security layers while maintaining operational excellence.
KEMET turned to Equinix and its partner Open Systems to create a high-performance, secure and resilient SD-WAN and hybrid multicloud architecture on Platform Equinix. The company moved its critical business applications and disaster recovery (DR) to Oracle Cloud with Equinix and Open Systems through Secure Access Service Edge (SASE) and multicloud interconnection. Equinix enabled KEMET to streamline its operations while enhancing its network performance and achieve end-to-end security and resiliency.
Open Systems and Equinix gave us a more agile and cost-effective foundation to optimize our network and multicloud access while increasing our security and resiliency. We now have the visibility and control to expand globally and integrate critical technologies to transform our business." Chris Hall, KEMET, VP of Global Information Technology
WISE Employment
WISE Employment is an Australian NGO committed to helping job seekers and people with disabilities find meaningful employment. To better serve its community, WISE needed to transform its IT environment to  be 100 percent mobile and have the agility to quickly develop/deploy groundbreaking services to enhance jobseekers' employability.
Equinix and Telstra helped WISE build a robust, scalable and efficient digital infrastructure across over 160 offices across Australia to support WISE as it drives inclusiveness in the Australian labor sector. Its IT transformation included consolidating its data centers into a single Equinix International Business ExchangeTM (IBX®) data center in Melbourne. It then leveraged Telstra's network to power its core network and direct internet connectivity combined with Equinix Fabric to connect its hybrid cloud architecture to AWS. This transformation enabled WISE to set up and connect mobile offices in just a couple of hours and put one person to work within 10 minutes. The redundant infrastructure also keeps WISE's employment network available 24×7. Learn more about the WISE network optimization use case by viewing the video below:
Network optimization is your first step in developing an agile, high-performance and scalable digital infrastructure that can help you drive business value for less cost. Watch for the next blog in this series – deploying hybrid multicloud architectures.
Learn more by reading the Global Interconnection Index, Volume 4.
[i] A Forrester Total Economic Impact™ Study Commissioned by Equinix, April 2019.