In a year of unprecedented change from the COVID-19 global pandemic, there's no doubt that digital technologies are playing an integral part in keeping our society going by enabling remote work, online learning, connecting with our families and friends, and more. At the same time, the pandemic brought our connectedness to the foreground. No one organization, government or community can solve a global issue, like the pandemic, alone. And that's true about many of the challenges we face today – from climate change and its associated risks to depletion of natural resources to social injustice and inequality.
At Equinix, we believe in a future of possibility – one where the planet is healthy, our global communities thrive and every business leads with integrity. The impact today's actions can have on tomorrow is front of mind in all that we do, whether it's helping our customers adapt to rapid change, partnering with others in our industry to advance climate neutrality and positive social impact or building a more diverse, equitable and inclusive workspace for our employees.
In this update to our interactive sustainability report website, released today, our Sustainability Program Office (SPO) in conjunction with our global environment, social and governance leaders have highlighted our sustainability commitments and progress. We encourage you to learn more about our Future First Sustainability strategy and impacts across our global footprint.
Sustainability at Equinix
See how Equinix is rallying our people and partners to dream of a better future and then doing what it takes to make it happen.
Learn More
Our sustainability approach
Our commitment to sustainability is driven by our resolve to do the right thing, measure and report transparently, and lead with integrity. Our sustainability approach and strategy align our Environmental, Social and Governance (ESG) initiatives to the material issues that impact our stakeholders, business and the world around us. And our ambitions align with the six United Nations Sustainable Development Goals (UN SDGs) most important to our strategy, as well as several other measurement and non-financial reporting frameworks.
Highlights of our ESG progress include:
Environment: We are taking a leadership role in doing what it takes to protect the planet and addressing climate change across our 220+ Equinix International Business Exchange™ (IBX®) and xScale™ data centers and offices. Our commitment does not stop within our four walls; we are also committed to using our voice to influence our broader industry and help our customers and other stakeholders. By partnering with like-minded companies to advance low-carbon energy policies, sharing renewable energy buying knowledge, and encouraging innovation in the design and operation of sustainable data centers, we are caring for the planet and doing our part to accelerate the world's transition to a clean-energy economy. Our environmental achievements include:
Achieving over 90% renewable energy in 2020 for the third year in a row.
Reducing carbon emissions by 50% from 2015 to 2020, even as our global use of power has doubled, due to our renewables purchasing strategy.
Leading the formation of the Climate Neutral Data Centre Operator Pact, which commits Equinix and its data center peers to becoming carbon neutral across Scope 1 and 2 emissions in Europe by 2030.
Issuing $2.5 billion+ in green bonds in the U.S. and Europe to support multiple areas of innovation in green buildings, renewable energy, energy and water efficiency, waste reduction and clean transportation.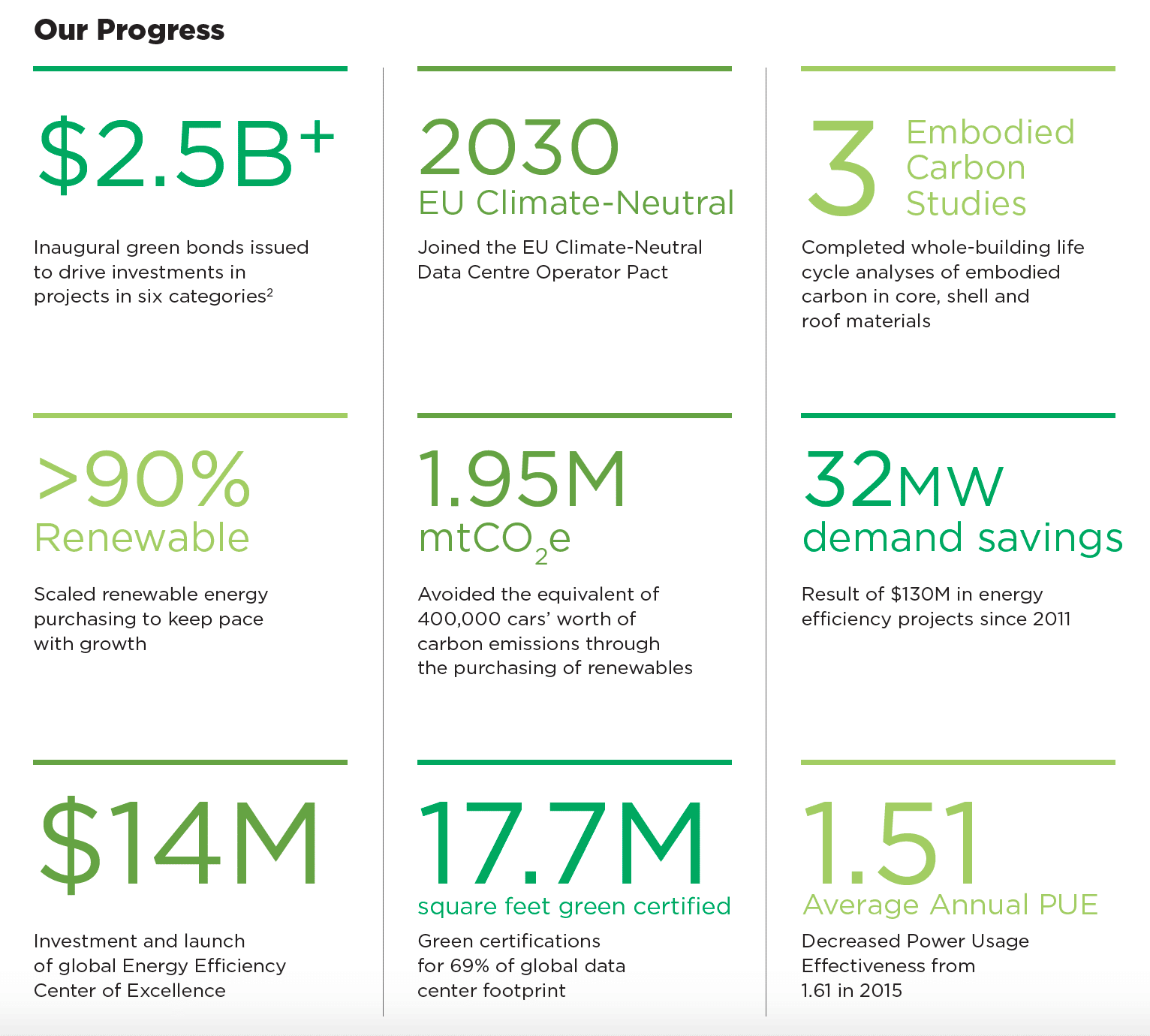 Social: The COVID-19 pandemic continues to underscore the reality that we are all interconnected. Our social progress supports this as we strive to do more for each other to unleash potential and serve and connect all people and the communities we operate in. Equinix is prioritizing diversity, inclusion and belonging with the aim to attract the best talent, create an inclusive culture and address the needs of our communities and employees. Activities in 2020 include:
Donating $2.8 million, including $900K for racial justice and COVID-19 relief through 2:1 employee donation matching campaigns.
Volunteering 9,300 hours of employee time to 1,700+ nonprofits worldwide. This included partnering with Verizon on racial justice initiatives and the Never Ever Give Up [NEGU] campaign where 3,000 employees from both companies produced 10,000 care cards and donated over $7,500 to lift the spirits of pediatric cancer patients.
Achieving a 90/100 score in the Human Rights Campaign Corporate Equality Index Survey for LGBTQ+.
Reaching 100% senior leadership participation in inclusive leadership assessments and coaching.
Increasing women representation at leadership levels by 3.6% YOY.
Adding four new Equinix Employee Connection Networks (EECNs) – VetConnect, BlackConnect, GenteConnect and interASIANconnect – bringing the total to six EECNs.
Governance: Strong corporate governance is not only a competitive advantage, but also a key driver of our culture—one that is built with customers, suppliers, partners and employees. We are proud to be responsible corporate citizens that deliver superior results with the highest standards of integrity, while advocating for a sustainable future. Key governance results include:
Achieving 100% employee participation in our global ABC compliance training for the 7th year in a row.
Updating our Business Partner Code of Conduct to include sustainability expectations of our suppliers.
Publishing policies around our public policy activities and contributions to expand transparency.
Adopting the National Institute of Standards and Framework's Cybersecurity Framework (NIST-CSF) for risk management.
Completing activities to ensure compliance with evolving data privacy laws.
Realizing a better future, together
As our world continues to change, coming together to solve the biggest challenges we face is critical. Our Future First sustainability strategy is intended to rally our people and partners to envision a better future and then do what it takes to make it happen.
Large data center providers have an opportunity to facilitate positive change for all businesses that rely on digital infrastructure. By operating more efficiently and accelerating the shift to clean energy within their own facilities, these providers enable their customers to also operate more sustainably. Extending and scaling this positive impact will depend on cross-industry collaboration and innovation. With its commitment to clean energy, running highly efficient facilities and transparent reporting, Equinix is leading by example. Initiatives where Equinix plays a key role, such as the Renewable Energy Buyers' Alliance (REBA), the Climate Neutral Data Centre Operator Pact and the Paradigm for Parity, apply the weight of many major players toward advancing a sustainable and equitable digital future for all." Jennifer Cooke, IDC Research Director
See endnote for more detail[i]
Learn more about how Equinix is driving purpose across our business and harnessing the power of technology to contribute to a more accessible and sustainable future in our interactive sustainability report.
You may also be interested in reading our previous Earth Day, sustainability and impact blog posts.
[i] Equinix's commitment to innovation and sustainability has been recognized by ESG rating agencies and NGOs alike. Of note, Equinix has a double "A" ESG Rating from MSCI, a 14.2 "low" ESG risk rating from Sustainalytics, a "Prime" rating from ISS and an "A-" score for climate change from CDP. Furthermore, Equinix was ranked #2 of 108 REITs by Institutional Investor for Best Financially Material ESG Metrics, and was added to the FTSE4Good index series in 2020.