For most organizations the IT architecture has flipped. The most important data for their business is not in the headquarters or even the branch office; it lives and evolves at the edge in mobile cell towers, utility substations, remote kiosks or monitoring devices — sometimes continents away from headquarters. The edge pumps out data that inspires innovation, drives revenue, provides insights for sound decisions, and ultimately, delivers greater business value.
How to arrange data relative to your network and compute
Legacy IT infrastructures and network architectures backhaul data to corporate data centers for processing, analysis and interacting with public and/or private cloud services. However, delivering data to centralized compute or cloud capabilities far from its source has become impractical. The amount of data being produced at the edge is expanding exponentially and the speed requirements in which users or applications need to access data is accelerating. According to Santhosh Rao, author of the "Gartner Market Guide for Industrial IoT Gateways" report, "By 2025, 75% of enterprise-generated data in industrial settings will be created and processed at the edge, which is an increase from less than 20% today."[i]
The fourth annual volume of the Global Interconnection Index (GXI) illustrates how growing data complexity and compliance are driving the need for distributed data. In particular, the demand for local data analysis and data exchange to support today's global digital workflows is outpacing organizations' ability to classify, secure, transport and process data efficiently and cost-effectively across regions.
Global Interconnection Index Vol. 4
GXI Vol. 4 tracks shifts in the digital economy and their impacts on digital business. Explore how leaders use their digital infrastructure to fuel growth, where it's happening and how you can use interconnection to stay competitive.
Read More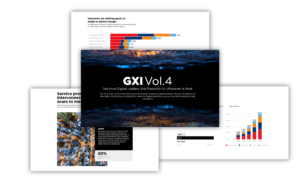 And as physics proves over and over again, distance matters when it comes to latency-sensitive application and data interactions. This is why it is advantageous to bring compute power and low-latency interconnection to where your data is created to speed data access, insights and outcomes. According the GXI, data proximity and direct and secure exchange with edge computing, clouds, data marketplaces and artificial intelligence/machine learning ecosystems are required to improve data transport performance and local processing, lower costs and increase real-time insights.
Because the edge can be far from your corporate data center and encompass hundreds of locations and thousands of devices and users, your network needs to be distributed and proximate to everything it is connecting within your business. By putting your compute, storage and network infrastructure out at the edge (physically or virtually), you're reducing the distance between your data sources and critical data storage, processing, logging and analysis resources. You can also keep your data close to vital cloud and SaaS on-ramps, where you can access real-time artificial intelligence, machine learning and other analytics services.
Why cloud native data may need to be in an edge data center
Many organizations who are born in the cloud, or are making a wholesale move there, believe they have completed their digital transformation. However, they often overlook the importance of computing power proximity to data access and application performance, cost, and data protection and privacy requirements.
This use case is the inverse of those businesses with legacy applications and data stores already in on-premises or multitenant data centers, however the challenge is still the same — how do you arrange your network, compute and data locally at the edge for high performance, yet still deliver cost-effective and secure global access?
Delivering fast, low-cost, low-latency on-demand access to distributed data at the edge
With Pure Storage® on Equinix Metal™ , businesses can build a best-of-breed, cost-optimized hybrid multicloud architecture with unparalleled performance and run their operations as a true, automated, storage-as-a-service model seamlessly across multiple clouds.
Use Case: LogDNA
LogDNA is a SaaS log management solution that gives DevOps teams tools to develop and debug their applications with ease. LogDNA's solution is optimized for Kubernetes and container-based applications and its innovative features put users in control of their data and allow them to gain valuable insights from their logs. Though starting out as a cloud-native company, LogDNA began to expand its footprint and discovered the cloud couldn't keep pace or ensure critical compliance needs. Equinix Metal gave LogDNA on-demand, automated interconnected bare metal-as-a-service (BMaaS), providing the power of on-premises data storage with the convenience of public cloud.
By running 95% of its workloads on Equinix Metal, LogDNA increased its profit margins by 70% and YoY revenues by 300%. The move also helped the LogDNA team ensure that all their deployment sites are running on a consistent Kubernetes-based infrastructure. According to Ryan Staatz, who oversaw LogDNA's infrastructure migration from Virtual Machines (VM) to Kubernetes, "Running Kubernetes on Equinix Metal gave us a scalability advantage since Kubernetes treats each of these 'big nodes' as a resource pool that can run as many containers as the machine has resources to handle. And the lower overhead costs proportionally per node is a nice benefit." As a result, LogDNA saved $5 million in a year by switching to Equinix Metal. Now with Equinix Fabric™, LogDNA is able to collect logs from customer applications in various cloud environments.
In addition, LogDNA had started its own local disk storage solution, however, the cost of operating it didn't make sense. The company decided to go with Portworx by Pure Storage on Equinix Metal, a leader in Kubernetes "container-native" data storage protection. As a result, LogDNA scaled from three data store environments to fifteen in a year, which would have been much harder without the combination of Portworx and Equinix Metal.
We are able to deliver a more responsive experience as a direct result of the improved performance. We are not only able to keep up with our super-fast growth, but also handle it well. That would not have been possible without Equinix Metal and Pure Storage." Ryan Staatz, Systems Architect, LogDNA