As technology continues to write the business playbook, enterprise data centers are rapidly becoming essential to implementing effective hybrid and multicloud operational models and integrating into public cloud services. Several years ago, NetApp and Equinix initially developed one of the first enterprise hybrid cloud solutions to address this migration—an initiative that featured the sharing of data with NetApp Private Storage (NPS) on Platform Equinix®. That collaboration enabled customers to securely retain data on private NetApp storage platforms located "next to" rather than "in" the public cloud.
Now, as enterprises continue their cloud journey, we are expanding our collaboration with NetApp via new consumption models for data in the context of hybrid and multicloud architectures. NetApp recently announced the next innovation in its storage-as-a-service (STaaS) solution by offering Equinix International Business Exchange™ (IBX®) data centers and Equinix FabricTM as an option for customers implementing NetApp Keystone Flex Subscription.
Optimize your cloud infrastructure with Equinix Fabric™
Equinix Fabric™ directly, securely and dynamically connects distributed infrastructure and digital ecosystems on Platform Equinix®. Establish data center-to-data center network connections on demand between any two Equinix Fabric™ locations within a metro or globally via software-defined interconnection.
Download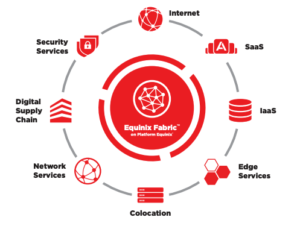 This new joint solution enables organizations to quickly and easily deploy and scale Flex Subscription across hybrid multicloud architectures where they are most needed. NetApp will offer its subscription-based pay-as-you-grow data storage service at Equinix IBX data centers worldwide.  This gives NetApp and Equinix customers the opportunity to locate data next to the vibrant ecosystem of more than 2,950 cloud and IT providers on Platform Equinix, simplifying customer deployment, consumption and support of these combined services via a single management console and billing model. It also enables joint customers to address fluctuating IT and storage requirements, better manage costs, and more consistently control and protect data.
NetApp Keystone Flex Subscription Available via Equinix IBX Data Centers Worldwide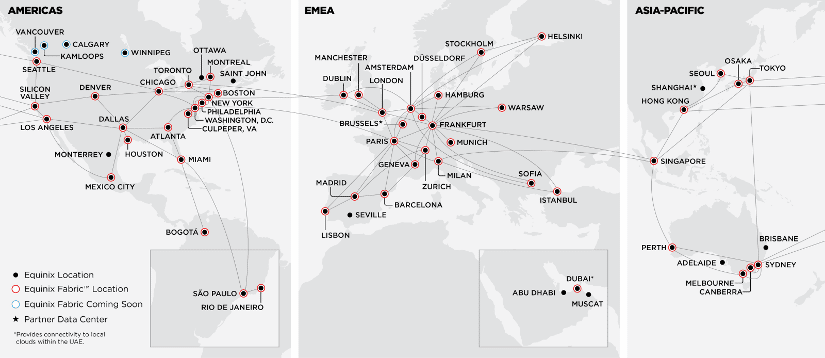 Equinix powers NetApp Keystone flexibility
NetApp has integrated NetApp Keystone Flex Subscription with Platform Equinix specifically to help organizations address the challenge of migrating to a more cloud-ready digital infrastructure and blend hybrid multicloud functionality into an IT architecture. Flex Subscription greatly reduces the complexity of storage management and consumption as data needs change.
Typical use cases that can take advantage of this include:
Hybrid multicloud access—Avoid cloud lock-in and maximize compute, database, analytics and other services by centrally locating data adjacent to all public clouds.
Data compliance—Comply with data privacy requirements and data sovereignty laws when incorporating public clouds into IT platform designs.
Disaster recovery—Make your disaster recovery more flexible by taking advantage of multiple clouds and the unparalleled global reach of Platform Equinix.
Data analytics—Enable high-performance data analytics with the compute options and evolving services of public clouds.
Development testing—Speed development testing and innovation by providing on-demand, secure access to the public clouds your developers need.
NetApp Keystone Flex Subscription
Optimize performance, scale storage and ensure data security
Flex Subscription data storage services take advantage of the on-demand global interconnection capabilities of Equinix Fabric. With Flex Subscription and Equinix, you have one vendor for infrastructure-as-a-service, and you get a single invoice for your storage consumption, space, power, cooling and networking. In summary, Flex Subscription at Equinix enables you to:
Subscribe to a flexible consumption model­ and pay only for storage, space, networking and other operational expenses based on your storage consumption.
Control the storage utilization that your enterprise requires along with the capacity to grow as your business expands.
Gain the flexibility and agility to evolve with newly introduced services, such as Equinix Metal™—our automated, interconnected and secure bare metal-as-a-service offering.
Convert to an operational expenditure (OPEX) model, spend less on day-to-day data center management and apply more energy on strategic business development initiatives.
Leverage NetApp and Equinix industry innovation
By extending the data center to flexible computing, database and analytic services, NetApp Keystone Flex Subscription at Equinix supports leading edge innovation across key industries. Some examples include:
Financial services—Traditional banks and payments organizations are going through their own digital transformation. As part of that journey, they are facing challenges such as regulatory requirements, data privacy, security and egress costs. By placing their data "next to" (but not "in") the cloud, they can mitigate many of those challenges.
Automotive—As vehicles become more connected, the need to collect, store and manage massive amounts of data increases. Placing vehicle data at the network edge enables new use cases such as vehicle-to-vehicle communications and advanced driver assistance which both require high-speed, real-time data exchange.
Media and entertainment—Video and animation production generate giant files that must move among studios, editors and rendering processes throughout the production cycle. Keeping these assets in a private cloud repository makes it far easier to apply digital tools and processes without slowing collaboration or workflows with costly delays.
Both Equinix and NetApp continue to see significant momentum in placing data "next to" the clouds via NetApp Keystone Flex Subscription at Equinix. We are excited to continue to bring new capabilities to the market that simplifies and optimizes hybrid and multicloud architectures.
Learn more about Equinix Fabric.
Subscribe to the NetApp Keystone Flex Subscription.
For more details about this program, download the NetApp Flex Subscription solution brief.