When it comes down to it, application responsiveness and the user experience are what really matter. If you don't have the best possible performance when exchanging application workloads among clouds, partners and users, then you'll either be faced with a lot of customer service calls or worse, lost business.
By building out and interconnecting digital infrastructure at strategic exchange points with dense concentrations of ecosystem participants, you'll be able to deliver high transaction rates, real-time processing and efficient application exchange.
See How Digital Leaders Are Prepared for Whatever Is Next
GXI Vol. 4 tracks shifts in the digital economy and their impacts on digital business. Explore how leaders use their digital infrastructure to fuel growth, where it's happening and how you can use interconnection to stay competitive.
Read GXI Volume 4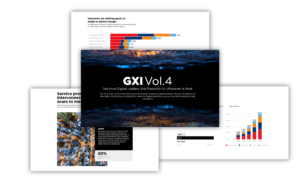 Proximity matters to achieve low-latency
Every workload has its own tolerance parameter for network latency. Today's high-frequency trader needs to process an order in less than 400 microseconds. For streaming gamers, anything under 30 milliseconds (ms) is what's needed to stay in the game. With general internet browsing, the latency could be anything under 100ms before people start tearing their hair out.
The latency for light propagation in optical fibers, which make up most of today's high-speed networks,  is 5ms/1,000 km. This means that the greater the distance between applications and users, the greater the delays caused by latency. So, to reduce latency, you need to put your application servers as close to the partner systems and cloud services they depend on and the users that access them.
Driving a network effect from low-latency access to dense ecosystems
Dynamic on-demand connectivity at the lowest latency drives new value and enables you to leverage the network effect—using proximate, direct network access to dense digital and business ecosystems to magnify digital engagement and enable new forms of innovation.
The diagram below illustrates how deploying digital core and edge hubs proximate to network, cloud partner ecosystems and users allows you to reduce latency and application response times and increase user satisfaction.
Here's how you can use digital core, edge and ecosystem exchange deployments on Platform Equinix® to reduce application workload latency.
Interconnect your digital core
Equinix Fabric™ software-defined interconnection allows you to transform corporate networks and applications to a hybrid multicloud model and access edge-based services, such as SD-WAN and SASE, using Network Edge services. By modernizing your network and security via virtual networking technologies, you can increase efficiency and reduce risk while quickly and seamlessly integrating multicloud capabilities. Deploying a digital core with low-latency access to clouds and edge services using cloud and edge adjacent hubs enables you to deliver services globally in under 50 ms.
Integrate with all your ecosystems via a digital exchange
By leveraging secure, low-latency access to digital and business ecosystems in edge adjacent hubs, you'll be able to scale your capabilities and reach new markets and users faster. For example, by tapping into data exchanges and accessing AI and ML capabilities via cloud services using Equinix Fabric, you can deliver real-time information to your users and time-critical insights to run your business. Direct and secure interconnection between adjacent SaaS and B2B ecosystem partners can happen in under 1 ms, quickly providing new capabilities to your users and customers through real-time application exchange across multiple ecosystems.
Interact at Your Digital Edge
You can transform the user experience by enabling local engagement and operations across edge locations and optimize commercial flows between business partners. By deploying virtual network functions (VNF) devices from leading vendors on Network Edge, you can extend your network reach out to the edge, closer to users, partners and cloud on-ramps. Equinix Metal, automated, interconnected bare metal as a service, delivers compute and storage capacity on-demand to scale cloud-native applications wherever you need it. Equinix Fabric enables fast, low-latency access to these edge services in 10 ms or less via a local digital edge hub.
Building your digital transformation path toward application exchange
The Global Interconnection Index (GXI) Volume 4 identifies typical paths that innovative, growing organizations are taking to accelerate their digital transformation and enable high-performance, low-latency application exchanges.
This example shows the incremental progression of a digital service provider as it builds out interconnections with hubs, network and cloud partners and cabinets, from initial deployment to the two years that follow.
The image illustrates the network-effect of deploying proximate digital core and edge hubs adjacent to network and cloud providers. Once the initial interconnected core and edge hubs are established, the service provider's business expands, multiplying the number of core and edge hubs, interconnections and cabinets required to support its business.
Application exchange in action
The Finnish-based travel, logistics and maintenance service company, VR Group, wanted to replace its legacy corporate network, which had become increasingly complex and cumbersome, requiring manual operation and maintenance that drove up costs. The company needed to provide fast, reliable access to business operation applications on Microsoft Azure for its employees and customer-facing applications (travel reservation, logistics and maintenance systems) on AWS. Its Architecture team set out to improve the performance, scalability and resiliency of its hybrid multicloud interconnectivity and to better control escalating costs.
Working with Equinix and Cisco, VR Group's architects evaluated different deployment options and selected the most optimal solution for its needs. By harnessing Network Edge services and Cisco virtual cloud routing, the company was able to build an optimized, agile and resilient digital infrastructure with low-latency access to AWS and Azure clouds.
Reducing complexity and cost and increasing resiliency were key to our network optimization initiative. Network Edge and Equinix Fabric helped us accomplish all three—eliminating manual operations, saving a minimum of 60% in expenses and preventing network outages." - Pasi Louko, Senior Network Architect, VR Group
Learn more about how you can deploy application exchanges that will deliver fast application response times and a greater user experience by reading the GXI report.