When the pandemic abruptly pushed classroom instruction, healthcare, and the workplace for many online, the digital divide across the United States was exacerbated and those without high-speed internet were unable to participate. While some had home computers or laptops and ready access to broadband connectivity, others rapidly fell behind. In our increasingly connected society, lack of access to high-speed, low latency internet—let alone broadband connectivity—continues to widen the gap between the connected and the under connected.
The digital divide manifests itself in multiple ways across the country including in rural, urban, and inner-city areas, whether it's:
lack of critical infrastructure for business and residential access to the internet;
lack of technology and service provider options including ownership of a computer or ability to set up basic internet; or
broadband access is simply too expensive for some who live there.
According to the White House, there are an estimated 30 million Americans living in areas with little or no broadband infrastructure that provides minimally acceptable speeds, and even more with internet speeds suboptimal for standard internet use. In addition, the Organization for Economic Co-operation and Development (OECD) found that among 35 countries studied, the United States has the second-highest broadband costs.[1]
Connect digital infrastructure at software speed
Scale hybrid deployments, achieve network agility, directly connect to partners and providers easily and securely.
Read More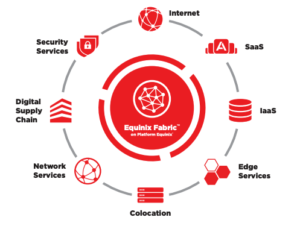 To address this, in November 2021, the U.S. federal government passed the $1.2 trillion dollar Infrastructure Investment and Jobs Act (IIJA), which allocates $65 billion to deliver high-speed internet access to all Americans through broadband infrastructure deployment. A significant step towards closing the digital divide, this funding will prioritize "unserved" and "underserved" areas, connecting more Americans to valuable digital services, telehealth appointments, online schooling, and hybrid work environments. The law also seeks to make internet connectivity more affordable for lower-income populations by providing a monthly subsidy to encourage internet adoption.
As a result of the IIJA, the National Telecommunications and Information Administration (NTIA) will be administrating more than 40 billion additional dollars in grants to states and U.S. territories for the Broadband Equity, Access, and Deployment (BEAD) and Digital Equity Act programs, among many other deployment and connectivity initiatives.[2] This massive effort is meant to "even the playing field" and ensure that every American, particularly the most vulnerable, has a connection to high-speed internet and competitive pricing.
Equinix and the CEO Action for Racial Equity Fellowship are helping bridge the digital divide
Black Americans are disproportionately affected by the digital divide. According to the late congressman and civil rights icon John Lewis, "Access to the Internet … is the civil rights issue of the 21st century." A Harvard Business Review census showed that 36.4% (16M) of Black households do not have a computer or broadband access and 70% of Black Americans report being under-prepared with digital skills, affecting their employability.[3]
As a member of the CEO Action for Racial Equity, we see addressing the digital divide as a vital bridge to a better quality of life. Affordable low latency, quality broadband can help families of all socioeconomic backgrounds transition from surviving to thriving, as it provides the modern tools necessary for current and future generations to succeed.
The historic federal broadband funding is a recognition of how essential the internet is. The focus now shifts to implementation and ensuring equitable deployment of the funds, to reach those who need it the most. Some of the initiatives the Fellowship program is working on to ensure this include:
Encouraging digital adoption by making it easier to sign-up for stipends for internet services, making them more affordable for moderate- to low-income people.
Acknowledging the internet as digital infrastructure to increase the accessibility of internet services in poorer and disconnected areas.
Advocating for more accurate and equitable data mapping to make sure all unserved and underserved areas are identified for federal funding eligibility.
Raising awareness of the digital divide as a racial equity issue is more nuanced than simply a geographic one.
Developing content and programming to encourage local digital equity efforts (i.e. standing up digital equity offices that connect disparate efforts to address internet needs).
How Equinix and its partners are helping to close the digital divide
The Equinix founding principles—and name—were based on providing equality [EQUI], neutrality [N] and Internet eXchange [IX]. Equinix played a part in shaping how network service providers (NSPs) and internet services providers (ISPs) built the public internet. Working together with business partners including thousands of NSPs, ISPs and cloud service providers (CSPs), to provide global access to critical cloud-based services such as telehealth and online learning at speeds that make those services successful.
Beyond expanding access to the internet, closing the digital divide requires consideration of speed and performance so unserved and underserved communities can utilize crucial digital services. In addition to a lack of broadband coverage, there are too many "hops" between most NSPs and customers in rural areas. In these cases, NSPs can partner with Equinix by leveraging our data centers as a reliable, cost-effective interconnection hub to flatten their network architecture and access an expansive ecosystem of service providers (clouds, SaaS, ISPs, other NSPs, etc.) in one place, improving the user experience.
One Equinix NSP partner that is taking advantage of greater proximity to its customers via Platform Equinix® is Quintillion Network. The Alaskan company, a provider of broadband connectivity, is committed to connecting more Alaskans in rural areas to each other and the rest of the world through their unique high-capacity fiber-based broadband network. According to Quintillion, "Many Alaskans in the Northern Slopes region have gone without sufficient broadband access for most, if not all, of their lives."[4] Quintillion is evaluating projects and partnerships to maximize its ability to leverage its existing network and expand further and deeper into Alaska. Its goal is to provide a high-speed backbone for communities, businesses and anchor institutions with a focus on increasing speeds and improving reliability/affordability.
The Quintillion network currently spans over 1,200 miles of subsea fiber along the Northwest Arctic and North Slope of Alaska, and over 500 miles of terrestrial fiber along the Dalton Highway. Quintillion provides middle-mile backhaul services for last-mile service providers, enabling the capacity to access the internet for multiple Alaskan communities. Its fiber optic network makes it possible to offer broadband at speeds similar to major metropolitan areas. On a global scale, Quintillion's Japan-Washington State Trans-Pacific Cable System (JAWS TPCS) will achieve route diversity, reduce latency, and establish an Asia to North America fiber connection.
Additionally, Quintillion's High Latitude Data Acquisition (HiLDA) ground station—located at the northernmost point in the United States in Utqiaġvik, Alaska—enables satellite downlink activity to connect to GigE fiber on U.S. soil. This ground station connects to the Equinix Seattle (SE2) IBX data center and other major exchanges and cloud access providers in Seattle, Washington and Hillsboro, Oregon.[5] Being linked to this business exchange gives satellite companies access to Equinix Fabric™, providing businesses that own infrastructure, such as satellites, to connect and utilize other companies' IT infrastructure without having to build their own system. Furthermore, The Quintillion HiLDA ground station connectivity in Equinix SE2 data center offers a strong advantage to companies that use Quintillion's ground station to gain access to satellite-based data for their customers.
The potential of the partnership with Equinix includes opportunities to provide schools, healthcare facilities, businesses and the government, access to all the Equinix markets and services with relative ease via the Equinix Fabric software-defined interconnection and the Quintillion long-haul terrestrial, satellite and subsea fiber networks.
As more people log online for school, health care, work, and entertainment, Alaskans in unserved and underserved regions are being left behind. Quintillion is committed to bridging the digital divide through our unique high-capacity fiber-based broadband network. We are thrilled to partner with the team at Equinix, who shares that commitment. With Quintillion's integrated digital infrastructure and Equinix's trusted platform, the opportunities are limitless." - George Tronsrue, Quintillion's Chief Executive Officer
Edge connectivity moves NSPs closer to unserved and underserved users
In addition to providing NSP customers with direct and secure interconnection to the outer most edges of network, internet and cloud services via Equinix Fabric, Equinix enables companies to access virtual network services from leading providers via Network Edge. Network Edge is optimized for the instant deployment and interconnection of virtual networking functions (VNF) devices, such as virtual private networks (VPNs), firewalls, SD-WAN gateways and cloud routers, in addition to accessing private and public clouds through the Equinix Fabric portal. Equinix Connect also enables access to ISPs from companies' infrastructures on Platform Equinix®.
The following common use cases support NSP solutions for closing the digital divide on Platform Equinix:
Case 1: Interconnection aggregation at Equinix—to reach the Internet ecosystem.
Case 2: Equinix Fabric integration—to automate network access to digital infrastructure and services.
Case 3: Wireless network breakout—to directly connect 5G users to applications
At Equinix, we are working toward a more accessible and equitable digital economy for all, which goes beyond access to the internet. By addressing latency and performance together with our NSP, ISP and CSP partners, we are proud to play a role in supporting the Government's mission to bridge the digital divide.
For more on partnering with Equinix go to our Network Service Provider page.
[1] EC&M Web, "Bipartisan Infrastructure Deal Finally Comes to Fruition," November 8, 2021.
[2] National Telecommunications and Information Administration, "Grants: Infrastructure and Job Investment Act Overview."
[3] CEO Action for Racial Equality and Letter to Congress on the Digital Divide.
[4] Quintillion Blog, "US Broadband Infrastructure Grants: Building out a more connected Alaskan Community," December 24, 2021.
[5] Quintillion Blog, "The Quintillion Polar Ground Station and Equinix Fabric Connection," December 10, 2021.