Hybrid multicloud architectures are essential to enterprises working to gain tenacity on digital acceleration and maximize agility in our dynamically changing world. Whether it's the onset of COVID-19, geopolitical conflict, or simply unexpected changes in the market, there are endless reasons why it's crucial for enterprises to be able to adapt their digital infrastructures quickly.
Furthermore, most enterprises have recognized by now that a "one-size-fits-all" approach to cloud is unlikely to deliver the best results. While some workloads are well suited to reap the performance and flexibility benefits of a public cloud, others might require the security and data privacy that only on-premises systems can provide.
Complicating matters further, different clouds excel in different areas, so getting the best results typically requires working with multiple cloud providers. When business dynamics change—and they will—the cloud strategy must adapt in unison. That's why it's essential for organizations to have complete control over their hybrid multicloud networking, with the ability to push through changes quickly and easily.
Connect digital infrastructure at software speed
Scale your services globally without additional capital expense to meet customer demand, create new revenue streams and drive innovation.
Read More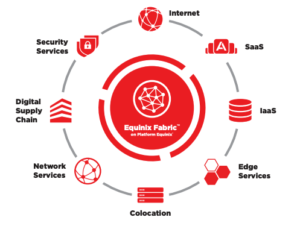 To accelerate hybrid multicloud management, seek the right partner
To illustrate challenges involved with cloud networking in a hybrid multicloud world, let's begin by looking at the early adoption stages of cloud networking. Many enterprises begin their cloud journey by setting up an IPsec VPN over the internet. Performance across these public connections can be unpredictable. Security is also a concern: despite the encryption provided by IPsec, any service running over the public internet offers a relatively large attack surface for hackers, cybercriminals, and state-sponsored threat actors. It's also well known that the internet is the most expensive way to egress data from a cloud provider.
The ideal way to make the connection would be via private, software-defined interconnection, which provides the best possible combination of security, performance and reliability, all while maintaining the lowest possible latency. Let's take a closer look at why some of the other connection methodologies may fall short.
Some organizations might employ a network service provider's multi-protocol label switching (MPLS) network to facilitate the connection. Certain shortcomings are also evident here. Because you're dependent on the MPLS provider to implement, troubleshoot or adjust links, you have no way of knowing whether the provider will be responsive enough to meet your needs. Multiply that concern by every connection to every cloud provider that plays a part in your hybrid multicloud strategy, and you'll see why MPLS can't provide the needed level of network agility.
This is why for most organizations, the best hybrid multicloud strategy involves collaborating with a trusted partner specializing in interconnection services. Such a partner can serve not as a cloud host per se, but as a fast, straightforward means of establishing connections to leading cloud providers, tracking costs, optimizing security, and maximizing performance and service continuity.
Equinix Fabric software-defined interconnection enables greater cloud agility
Equinix Fabric™, our unique software-defined interconnection service, was designed specifically to help customers connect with cloud providers and other partners from anywhere across our global footprint. Customers can tap into the power of Equinix Fabric from Equinix IBX® data centers in more than 50 metros worldwide.
What's the Equinix advantage? To begin with, Equinix data centers offer dedicated, high-security, high-performance private links to major public cloud providers such as AWS, Google Cloud and Microsoft Azure, all from one place. Since Equinix Fabric enables remote interconnection, you aren't limited by geography; simply start from the Equinix Fabric node nearest you, and you'll be able to access cloud on-ramps across the world. This makes it possible for you to roll out services to new global markets with extraordinary speed and ease. All the infrastructure needed to do so is already in place. Equinix Fabric customers also benefit from a reduction in egress fees from most cloud providers.
The fact that the links are private and dedicated means security is inherently superior to connections over the public internet. A private link means that malicious third parties cannot access or compromise data passing back and forth to the cloud. A private link also means that network latency is inherently lower, as the link is not susceptible to the fluctuations of public internet traffic.
Self-service web portal enables quick, easy hybrid multicloud networking
To simplify and accelerate overall cloud agility, Equinix Fabric customers can use our intuitive self-service management portal from any standard web browser. With a few simple clicks, the portal allows you to create new connections to cloud providers, assign new ports as needed, ensure each connection is adequate for its business purpose, keep track of pricing, and verify service performance and uptime.
As business conditions change, the portal makes it easy for you to increase or decrease bandwidth from a connection as needed. For virtual connections, you gain the granular control needed to dial up performance to meet workload demands, dial down performance to reduce operating costs, and quickly reallocate resources wherever they're needed.
Essentially, Equinix Fabric and its management portal empower you to create and evolve hybrid multicloud environments in real time—all without making a single call, asking anyone outside the organization to lift a finger, or installing a single new executable in your on-premises infrastructure. IT leaders can maximize security, performance and uptime while also minimizing cost, complexity and risk. They can also ensure their hybrid multicloud infrastructure meets the organization's business needs, even when those needs are constantly changing. Best of all, if your organization is leveraging automation tools such as Terraform, you can use an API to build new connections, dynamically adjust existing connections, and monitor performance.
To learn more about software-defined interconnection from Equinix Fabric and how it can support your cloud networking needs, read the data sheet today.
You may also be interested in 
As your business progresses its digital transformation journey, network transformation will be one of several milestones. Equinix offers insights and experience to help your enterprise think through, plan for, and ultimately achieve success. Equinix offers a workshop specifically tailored to guide your teams through the path. Our Cloud-Optimized WAN Workshop provides valuable insights into WAN transformation, cloud and SaaS integration, and at the conclusion, a deliverable to understand costs involved and a high-level strategy to align with your transformation roadmap. Equinix offers this workshop at no cost to you.
Learn more about our Cloud-Optimized WAN Workshop.
Also, check out the Equinix Fabric demo video below to see just how easy it is to manage cloud networking via the Equinix Fabric web portal.