Hybrid multicloud architectures have become the de facto norm for enterprise IT, delivering the flexibility and agility organizations need to compete in a fast-paced business environment. According to the Flexera 2022 State of the Cloud Report, 89% of surveyed organizations have now embraced a multicloud strategy, with 80% using a hybrid approach that includes both private and public clouds.[1]
As companies advance their digital transformation and seek opportunities to maximize their cloud investments, the ability to migrate cloud applications quickly and easily is essential. Hybrid multicloud networking solutions operate behind the scenes to help businesses connect the different components of their architecture, thereby ensuring that everything works well together, performs optimally and delivers superior security.
Download the Equinix Fabric™ Data Sheet
Establish data center-to-data center network connections on demand between any two Equinix Fabric locations within a metro or globally via software-defined interconnection.
Download Now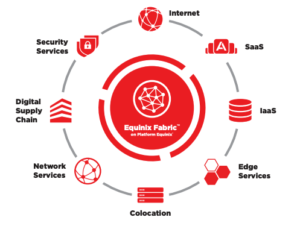 Whether a company is moving applications to the cloud, connecting its on-premises systems and public clouds, or integrating systems and applications from an acquired business, hybrid cloud networking makes it possible to achieve cloud migrations at scale, minimizing any roadblocks to cloud adoption. Equinix Fabric™ provides direct, private software-defined interconnection across distributed infrastructure and services, helping companies get their data where it needs to go securely and reliably. With Equinix Fabric, organizations can accelerate and optimize the underlying communication in their hybrid multicloud environments to deliver better performance and, ultimately, a better user experience.
Enabling faster, easier cloud application migrations
Organizations must move quickly and adapt nimbly to constantly changing business conditions. When it comes to cloud adoption, the hybrid multicloud networking is sometimes an afterthought, but networking is a critical element of any successful cloud strategy. Networking serves as the hidden plumbing that keeps everything connected and working smoothly in a hybrid multicloud environment.
Businesses have options for how they approach hybrid multicloud networking. Many use the internet, but public connections over the internet come with potential security exposures and latency issues. A private, dedicated networking solution offers better reliability, security and performance. With private hybrid multicloud networking, organizations have granular control over their networking. This empowers them to provide better performance and even accommodate seasonal and/or dynamic demand (depending on their business needs).
How cloud on-ramps and virtual network functions help
Companies working with multiple cloud providers, simultaneously, can use Equinix Fabric software-defined interconnection to get set up faster with cloud on-ramps and virtual networking solutions. This is like pressing the easy button when deploying and/or migrating workloads across many different clouds and service providers.
Cloud on-ramps provide direct connectivity to a cloud service provider. Today, most businesses recognize that participating in open ecosystems of partners and service providers is fundamental to hybrid multicloud success. One example of this in action would be using the global Equinix Fabric footprint to access cloud on-ramps to prominent service providers, including Amazon Web Services (AWS), Microsoft Azure, Google Cloud, Oracle Cloud and IBM Cloud.
Having access to cloud on-ramps where they need them allows enterprises to place each workload with its ideal provider, enabling them to design their hybrid multicloud architecture for the best possible balance of performance, scalability and cost-efficiency.  Leveraging Equinix Fabric allows customers to carry out this strategy not only at one location, but across the globe, in the metros and regions that stand to benefit the most from this connectivity.
Virtual network functions (VNFs) are another important element of accelerating digital transformation and driving hybrid multicloud growth. With supply chain delays and other challenges to setting up physical hardware (not to mention cost!), it's easy to see the advantages of virtual networking. Virtual services help companies maximize network agility by getting the same capabilities they would from physical hardware, without having to wait for the devices to be delivered. As a result, they can get their new solutions to market faster.
Network Edge VNFs integrate with Equinix Fabric, giving companies access to virtual routers, virtual firewalls, virtual SD-WAN instances and more, when and where they need them across the globe. And they can do so in a matter of minutes versus weeks—if not months—when compared to racking, stacking, and deploying physical gear.
Use case: Dynamically connect cloud applications in mergers and acquisitions
To illustrate the value of networking for cloud migration, let's consider the common scenario of a merger or acquisition between two companies running separate and distinct IT architectures. When one company acquires another, they need to act quickly (and intelligently) to integrate the acquired company's systems and applications into their own established IT environment.
But what if the two companies have built their respective IT architectures around two different public cloud vendors? (This is a very common scenario.) How can they quickly fold the acquired company into their existing technology environment and establish fast, secure communication between multiple cloud providers without rearchitecting or having to migrate all of the acquisition's resources into their cloud?
Hybrid multicloud networking solutions are the answer. They can help the acquiring company establish communication across multiple clouds and bridge the gaps between different systems, applications, and overall requirements. And better yet, if both companies are already on Equinix Fabric, they can establish that connectivity with a few simple clicks on our intuitive self-service web dashboard. This can help the two businesses close the acquisition with less risk and become operational—in a wholistic manner—to pursue the business strategy that drove the need for M&A in the first place (rather than spinning cycles trying to integrate technologies).
Better cloud connectivity drives innovation and improves user experience
…hybrid cloud networking makes it possible to achieve cloud migrations at scale quickly, minimizing any roadblocks to cloud adoption."
Private interconnection between architectural components enables cloud application migration at the speed of today's business, helping companies accelerate digital transformation. By minimizing roadblocks to cloud migration and maximizing flexibility and agility, Equinix Fabric makes it possible for companies to work faster and smarter, supporting greater innovation and strategic focus. Not only that, but it does so while providing key security and reliability benefits.
Ultimately, accelerating cloud connectivity is about delivering a better experience for end users—making sure customers and employees get instant access to the information they need. Distributed hybrid multicloud infrastructures connected by Equinix Fabric make that possible. Equinix Fabric is available in many different locations across the globe, with more being added all the time. Enterprises can leverage this global footprint to gain direct access to hundreds of cloud, IT and network service providers already on Equinix Fabric, from wherever they are in the world.
To learn more about how Equinix Fabric can help power your hybrid multicloud success, read the data sheet today.
[1] Flexera, 2022 State of the Cloud Report, 2022.
With private hybrid multicloud networking, organizations have granular control over their networking."
By minimizing roadblocks to cloud migration and maximizing flexibility and agility, Equinix Fabric makes it possible for companies to work faster and smarter…"