While the "anywhere economy" was thriving before the pandemic, it surged with the increased 24/7 demand from consumers and businesses as they relied on the internet for essential services from companies like Amazon, Netflix and Adobe. Robust digital infrastructure is imperative for the anywhere economy to deliver on the increasing expectation of anything, anytime, anywhere.
Despite the anticipated economic headwinds that threaten to stall business growth, IT decision-makers are expressing solid confidence in their ability to continue the success they've achieved with the anywhere economy over the past two years. In the fourth annual Equinix Global Tech Trends Survey (GTTS), we learned that 72% of IT leaders plan to expand into new regions, countries and/or cities in the next 12 months.
We sought out the opinions of 2,900 IT decision-makers from diverse enterprises across the Americas (AMER), Asia-Pacific and EMEA regions on technology trends that will enable business opportunities and help solve the biggest challenges they are facing now and into the future.
We believe the survey results represent the sentiments of global IT leaders who are driven to future-proof their businesses, helping them achieve competitive advantage in the anywhere economy.
Equinix 2022 Global Tech Trends Survey
Understand the impact of supply chain issues and other key threats driving a need for more virtualization, with companies planning significant investments accordingly.
Download the eBook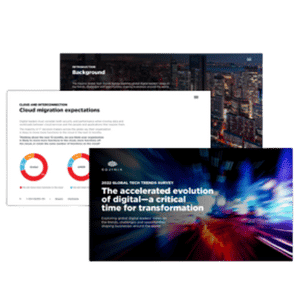 The global and regional insights from the GTTS reflect the views of IT decision-makers, including how:
Everything as a Service (XaaS) enhances customer and employee experiences.
5G, the digital edge, Web 3.0 and IoT applications support digital-first strategies.
IT strategies implemented during the global pandemic are here to stay.
Hybrid multicloud models enable maximum connectivity and agility.
Interconnection empowers participation in the digital economy.
Carrier-neutral colocation and interconnection spend are trending upward.
Virtualization helps address supply chain disruptions and support the new hybrid work model.
Sustainability plays a greater role in infrastructure choices and vendor selection.
The survey results provide a comparison of IT strategies across regions and countries around these key themes and others, as IT decision-makers look ahead to future-proofing their businesses for an anywhere (anytime) economy.
71% of global IT decision-makers embrace an XaaS model for the anywhere economy
We heard from IT leaders that XaaS models are taking center stage in the anywhere economy. Delivering exceptional customer and employee experiences supported by 5G, the digital edge, IoT and other emerging technologies such as Web 3.0—with a foundation of digital infrastructure that includes cloud and interconnection—will be essential.
IT leaders cited three key reasons for their attraction to the XaaS model:
Simplifies IT infrastructure
Increases flexibility
Improves customer and employee experience
Other reasons cited were cost reduction and one-stop shopping—the ability to get every service from a single provider. IT leaders in the Asia-Pacific region say that flexibility and user experience improvements are key drivers, while simplifying IT infrastructure is what resonates most with AMER and EMEA. In addition, global standardization is key to delivering agile infrastructure and rapid connectivity, as it is less complex. Automation provides for the predictability of experiences and allows for enhanced security, while enabling cost control and enhanced supply chain availability.
These same respondents reported some hesitation in adopting an XaaS model, citing top worries like the possibility of increased costs, whether providers have taken adequate cybersecurity measures and the risk that a single provider's service might go down. For verticals, such as finance, healthcare, transportation and the government sector that rely on service providers to provide critical infrastructure and remain operational 24/7, service interruptions can create significant issues, including lost revenue and more significant, loss of customers.
While over two-thirds of IT decision-makers worldwide say they are moving toward an XaaS model, there's a wide gap among the regions: 81% of those in the Asia-Pacific region say they are adopting XaaS, compared to only 62% of those in the EMEA region. AMER respondents land nearly in the middle with 73%.
83% of respondents agree that future-proofing is essential
In today's ever-changing world, disruption can breed opportunities for businesses willing to embrace change. As companies continue to reinvent themselves and build momentum from lessons learned during the pandemic, those that take the opportunity to future-proof their businesses will outperform their rivals. In addition to future-proofing, the following factors were named as the top priorities for IT leaders:
Improving cybersecurity.
Complying with data regulations.
Improving the customer experience
Accelerating innovation
Improving employee experience
The theme of future-proofing continues, starting with a review of what IT decision-makers consider the top threats to business success and how they're applying lessons learned during the COVID-19 pandemic.
Top threats to business success
The dynamics of nonstop disruption around the world are driving innovation and making agility a non-negotiable capability. IT leaders must be prepared to preempt and block numerous threats. Cyberattacks, security breaches and data leaks are considered serious threats by 70% of IT decision-makers. While not the top threat, 58% of IT leaders see the global microchip shortage as a significant threat to their business success, and constantly changing data privacy regulations ensure ongoing complexity. These threats to business success closely mirror the top priorities for technology strategies mentioned earlier. Businesses must be one step ahead and ready to pivot instantly as market trends shift. Companies that can remove or streamline processes between infrastructure and security teams will be better positioned to mitigate these threats.
Over 60% say tech changes made during the global pandemic are here to stay
The pandemic has accelerated growth and innovation, with 60% of the survey's respondents saying COVID-19 advanced their company's digital transformation journey. More than half of global tech leaders say their IT strategy has become more ambitious or their IT budgets have increased as a direct result of the pandemic. These results point to companies feeling confident the global pandemic contributed to the acceleration of their digital strategies.
45% say 5G network infrastructure is a critical component of tech strategies
Respondents called out the many promising capabilities of having a robust 5G network. 5G offers always-on and nearly instant access to content, data resources and interactive services. Taking advantage of new technologies (AI, IoT, etc.) is why nearly half of IT decision-makers believe a strong 5G network is necessary. Yet, there is work to be done and many respondents recognize the need to re-architect their IT infrastructure to ensure it supports 5G capabilities.
Further, 38% of AMER businesses believe 5G will increase the number of partners they're able to connect with, while 27% in Asia-Pacific believe it will put a strain on their businesses by creating more data to store, manage and analyze. However, enterprise sentiments were centered around the belief that 5G, with its enhanced capabilities, is the future with the awareness that the technology is not currently ubiquitous nor fully consistent. Nonetheless, designing infrastructure prepared for 5G is critical for future business outcomes.
Meanwhile, at the digital edge, the amount of data generated by machines, businesses and humans is increasing at an exponential pace. Respondents shared how they'll use the digital edge to carve out efficiencies and advantages—from addressing process efficiencies to combatting security threats to supporting new consumer applications, among others. In the Asia-Pacific region, the use of the digital edge for addressing process efficiencies is significantly higher than in other regions, while EMEA respondents indicated a focus on dealing with security threats. Getting the applications, services, data and compute as close to the source and users as possible provides the speed and performance necessary for the best user experience.
The diverse views of when Web 3.0 will replace Web 2.0
As business models and consumer demands evolve, thoughts turn to what the future of the internet might be. Web 3.0 will focus on the extensive use of decentralized applications and blockchain-enabled technologies; machine learning and artificial intelligence will be instrumental in empowering more intelligent and adaptive applications. Nearly half of IT decision-makers globally expect Web 3.0 to replace Web 2.0 within the next one to five years, while 28% of global digital leaders believe we won't see the establishment of Web 3.0 for six years or more.
More than half of IT decision-makers across the globe indicated their business has a Web 3.0 strategy in place; yet, there are some important differences across regions. Nearly seven in 10 of those in the Asia-Pacific region are significantly more likely to say this is the case compared to four out of 10 of those in the EMEA region. To adapt to the model of a decentralized Web 3.0 environment, agility, on-demand infrastructure and connectivity, as well as enhanced data processing and security and access to robust provider ecosystems will be essential.
Download The 2022 Global Tech Trends Survey
Gain insight into how business leaders are keeping a close eye on the sustainability of their IT infrastructure as they continue to invest.
Download the eBook
71% of IT decision-makers will move more functions to the cloud
As the digital economy continues to grow, companies report how leveraging cloud services, colocation and interconnection are key components of their business and IT strategies. IT decision-makers across regions weighed in on preferred cloud adoption models and the likelihood of moving more functions to the cloud. The report also notes that interconnection to ecosystems—concentrations of enterprises, partners and providers—is improving business outcomes.
IT decision-makers reported that hybrid cloud models are the most common deployment approach to achieve maximum connectivity and agility as they pivot to meet evolving demands. Seven in 10 global IT leaders are moving more functions to the cloud, including databases and productivity tools.
Organizations must leverage connectedness to participate in the anywhere economy and deliver seamless digital experiences for people, things, applications and processes. All regions are closely aligned on the three main benefits of interconnection:
Improving network optimization
Facilitating digital transformation
Increasing flexibility of connectivity
Nearly six in 10 IT decision-makers globally say their interconnection spending in 2021 increased compared to 2020. A majority of IT decision-makers across the globe say their interconnection spending is likely to increase further in 2022, which will help them make significant inroads into the anywhere economy.
Labor shortages, supply chain disruptions and the new hybrid work dynamic are all driving the need for virtualization; 35% are deploying virtually for the foreseeable future. A virtual IT solution helps to mitigate the current and future risks of chip and hardware shortage and the logistical challenges of shipping equipment during a complex post-pandemic environment. Virtualization also reduces the time required to enter new markets in the anytime economy; businesses can be up and running in new locations in a few days or even a few hours. Nearly half of digital leaders that are planning to expand into new markets in the next year will support that expansion by deploying virtually via the cloud.
65% will only work with IT partners who can meet key carbon reduction targets
In today's world, sustainability is not only a responsible move, but a necessary one to attract new business and remain competitive. IT decision-makers across the globe acknowledge the need to consider environmental sustainability when reviewing IT strategies. Nearly seven in 10 global IT decision-makers say sustainability is now one of their organization's most important drivers, while those in the AMER region weighed in at 77%.
IT leaders find they must carefully balance their digital infrastructure needs with environmental responsibilities. Around three-quarters of IT decision-makers across the globe indicate that reducing their environmental impact is a priority for their organization's technology strategy, with this feeling being strongest in the AMER region (79%). The complexity of this progress is not lost on digital leaders, with more than half of IT leaders across the globe being concerned about meeting environmental sustainability targets.
Make the anywhere economy a reality for your business
To succeed in a 24/7 anywhere economy, making the customer experience work and creating a satisfying employee experience requires a multi-faceted approach that starts with digital infrastructure. Other core components include future-proofing, investing in innovation, 5G and edge, XaaS, hybrid multicloud, interconnection, virtualized infrastructure and focusing on sustainability.
IT decision-makers that choose to focus on future-proofing by using the wide range of available tools, emerging technologies and digital-first strategies will be instrumental in helping their companies achieve competitive advantage in the anywhere economy.
While we've highlighted the top findings from the Equinix 2022 GTTS in this article, we invite you to read the e-book for other insights from IT decision-makers about the demand for the anywhere economy and top priorities for future-proofing business today.
You may also be interested in reading: