In 2022, news about supply chain constraints and geopolitical and economic instability dominated the headlines. Yet, that didn't deter our Equinix global and regional partners from helping our shared customers accelerate their digital-first strategies. Today, we recognize our partners' commitment to excellence with our 2022 Equinix Partner Awards.
The Equinix partner ecosystem includes a broad range of technology, network and cloud service providers, managed service providers, systems integrators and value-added resellers committed to helping businesses establish and extend their digital presence. At the center of the partner ecosystem is Platform Equinix®, with its vendor-neutral digital infrastructure that helps our customers reach prospective partners worldwide. This year's Equinix Partner Awards recognize those partners who delivered expertise that was instrumental in advancing our customers' digital-first strategies.
Award categories reflect breadth of partnership expertise
This year's Equinix Partner Awards recognize partners who most materially helped Equinix customers advance their digital transformation journeys. Partners continued to raise the bar in their unique packaging of products and services, so we expanded the scope of the award categories to ensure broader recognition of partner excellence. We proudly announce the Global and Regional Equinix Partner Award winners across the Americas, Asia-Pacific, and Europe, the Middle East and Africa (EMEA) for 2022.
Congratulations to this year's Equinix Partner Awards winners! We're thrilled to celebrate your significant contributions to our digital partner ecosystem and our shared customers. Your continuous collaboration and innovation make it possible for enterprise customers to focus on what they do best and rely on industry partners for the technologies and services that help accelerate their digital transformation. Thank you for the excellent partnership." - Karl Strohmeyer, Chief Customer and Revenue Officer, Equinix
Global Award Winners
Partner of the Year
This partner has consistently delivered value to their customers' business through the use of Platform Equinix for global reach and interconnection services to harness the power of the ecosystem; partner has a proactive strategy and program to establish customer value.
The Equinix and Dell Technologies partnership is paving the way for innovation in infrastructure, the cloud market and digital transformation. Equinix and Dell Technologies jointly create cloud-adjacent solutions that allow enterprises to deploy private IT infrastructure in locations where users, clouds, networks and digital ecosystems physically meet.
Businesses use Dell deployment models to deploy their infrastructure on Dell Technologies architecture within Equinix IBX data centers for flexibility, agility and scale while ensuring high levels of security and performance of demanding workloads. Together, we're delivering the next generation of digital transformation by combining our expertise in the data center and enterprise technology markets.
Alliance of the Year
This partner demonstrated excellence, innovation and customer success in applying Equinix technologies to achieve breakthrough solutions with us and our clients.
As a leading cloud services provider, Amazon Web Services (AWS) has invested in interconnecting with customers through Equinix to drive more unified consumption of cloud services. Whether companies connect directly to AWS via cloud on-ramps from Platform Equinix or deploy their digital infrastructure in an Equinix IBX® data center and use Equinix Fabric interconnection services to connect to AWS, the partnership between Equinix and AWS makes this happen effortlessly.
The Equinix and AWS partnership enables enterprises and partners to build seamless hybrid and multicloud architectures at Equinix to digitally transform their business' access to AWS Cloud. Together, Equinix and AWS are helping organizations of all sizes to transform existing systems and platforms into a more digital-ready state for their competitive advantage.
Regional Awards
In addition to our global awards, we also recognize top-performing partners across our three regions.
The regional Partner of the Year awards go to:
AT&T Business in the Americas
Telstra in Asia-Pacific
TCS in EMEA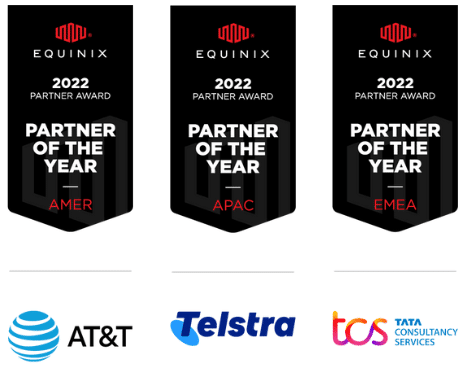 The regional Alliance of the Year awards go to:
Cisco in the Americas
Dell in Asia-Pacific
HPE in EMEA
Trailblazer
Partners in this category demonstrated excellence in pioneering the use of Equinix products in combination with next-generation technologies including 5G, edge, IoT, blockchain, and AI/ML/cognitive/advanced analytics, with a proven ability to implement greater penetration of a joint value proposition for market verticals.
The regional Trailblazer awards go to:
HPE in the Americas
HPE in Asia-Pacific
Accenture in EMEA
Emerging Partner
Partners in this category are recognized for the breakthrough value delivered to their customers' business using Equinix digital infrastructure solutions, establishing themselves as an important partner to Equinix now and into the future.
The regional Emerging Partner awards go to:
Alestra in the Americas
Fortinet in Asia-Pacific
SVA in EMEA
Equinix Social Governance
Partners in this category demonstrated their commitment to protecting, connecting and powering a more sustainable digital world with Equinix technologies.
The regional Equinix Social Governance awards go to:
Microsoft in the Americas
BT in EMEA
Partner Marketing
Partners in this category are recognized for how their commitment to marketing has strengthened the overall partnership by committing resources, creating joint marketing efforts, enabling their internal teams, and driving demand through differentiated marketing tactics to help grow pipeline.
The regional Partner Marketing awards go to:
Dell in the Americas
NetApp in Asia-Pacific
Softcat in EMEA
Technical Service Broker
The partner in this category demonstrated excellence by expanding into new countries/regions, through services, market and customer growth, facilitating new regional partnerships and providing marketing support to ensure partnership success.
The regional Technical Service Broker partner award goes to:
Mid-Market Commitment
Partners in this category demonstrated their commitment to aligning with and growing the Equinix Mid-Market business segment.
The regional Mid-Market Commitment awards go to:
AQUABLUE in the Americas
GSL Networks in Asia-Pacific
GCore in EMEA
Congratulations to the Equinix Partner Award winners for 2022! We're proud to be a partner with them.
Check our Equinix Partner Program Portal and stay tuned to this blog for more exciting partner news.